If you are traveling to Bolivia you might think about spending a few days in La Paz and exploring it from the heights thanks to the famous Teleférico de La Paz, a cable system that connects the whole city by air, saving infinite time in the traffic jams of La Paz and delighting the tourists who come to the city.
So which is the best route on the La Paz Teleferico? The Red Line is the best route to take on the La Paz Teleferico. The red line has the best views of La Paz. It passes over the enormous General Cemetery of La Paz, crosses the colorful neighborhood of Chualluma and goes up to El Alto.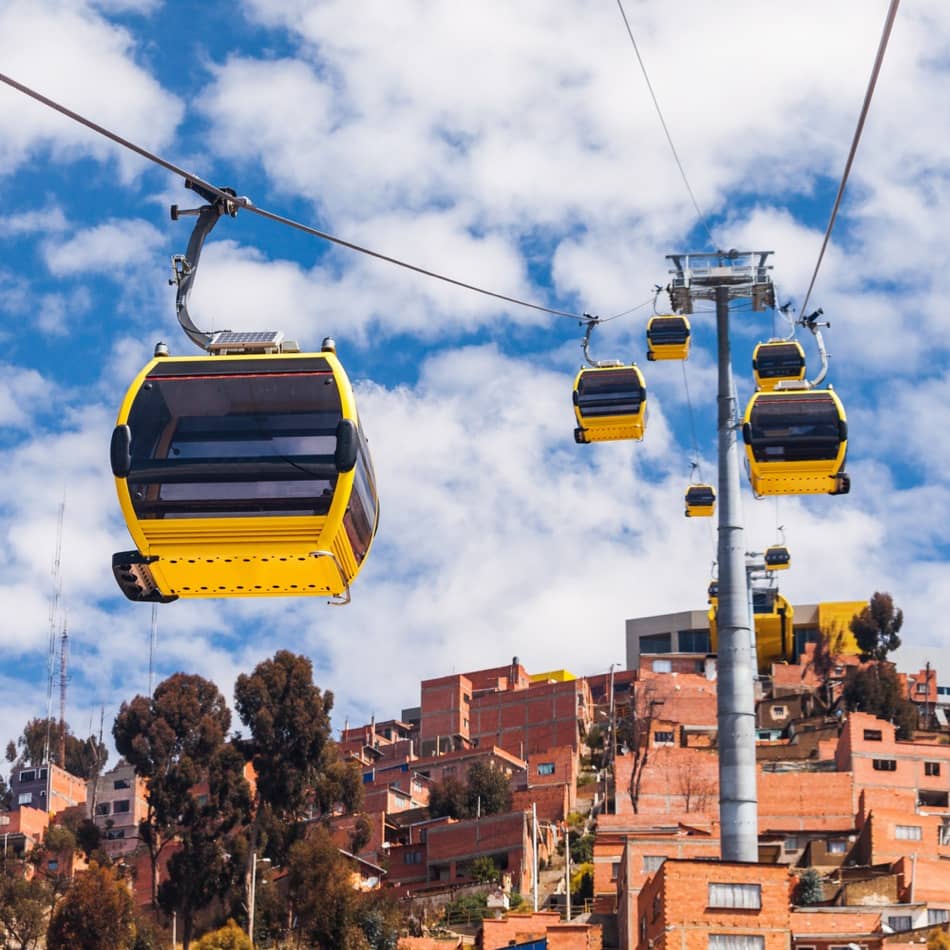 Currently the Teleférico de La Paz has 10 lines that connect the entire city at its most important points, as well as with El Alto, the neighboring city that was once a great La Paz neighborhood and today has even more inhabitants than La Paz itself and is famous for its working-class spirit as its motto goes: 'El Alto on your feet, never on your knees'.
Traveling by the La Paz Cable Car is not only a great experience, but it is also very cheap. Mi Teleférico has been designed for locals so its prices are a real bargain.
Single Ticket: Costs 3 bolivianos (40 cents) and allows you to go through a whole line, but you will not have access to the rest.
Two or more lines ticket: It costs 5 bolivianos and allows you to access several lines, what we know as a transfer. Ideal if you are going to have to link a couple of lines.
Circular tour ticket: It has a price of 11 bolivianos and it allows you to do the whole circular tour through 6 of its lines (orange, red, silver, yellow, light blue and white), finishing it in the point where you started it. Obviously this ticket is ideal for visitors and was the one we took on the first day, starting and ending the My Cable Car tour at the Central Station of the red/orange line.
On a practical level, all the cable car lines are ideal for paceños, but if you are going to visit it as a tourist, there are some more interesting than others and I can assure you that it will be one of the moments you will remember on your trip to Bolivia.
Here's my post about the best things to do in La Paz.
If you haven't booked your hotel yet, you can get the best deals on hotels here.
Blue Line
Although it's not a very popular line and, in fact, you won't even have access with the full ticket (you'll have to buy one separately for 3 bolivianos), I find it interesting because you can go back and forth through El Alto and see some of its most typical and picturesque buildings, the Cholets.
It is not the best place to see the cholets, because the ones in Villa Adela are the ones in all the pictures and the most beautiful ones, but it is a cheap and effective option to see these famous constructions of Freddy Mamami and give you the idea of what they are and represent.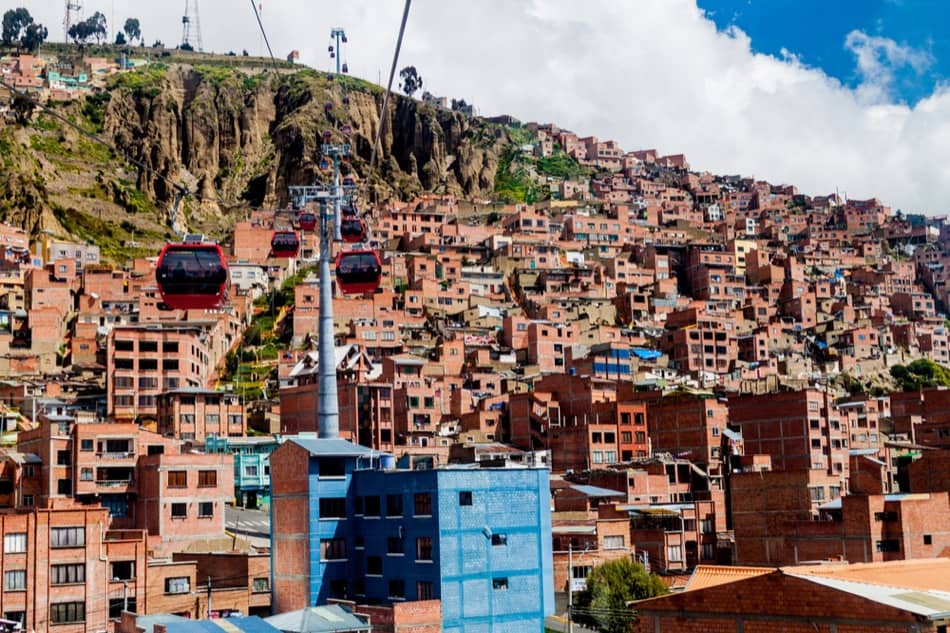 Red Line
Visually, it is by far the most beautiful and spectacular line of the Teleférico de La Paz. It passes over the enormous General Cemetery of La Paz, crosses the colorful neighborhood of Chualluma and goes up to El Alto to cross it and leave an unbeatable impression on Thursday and Sunday, market days.
If you are in La Paz on a Thursday or Sunday, save that day for your route on the Teleferico and above all, don't miss the red line, which passes through El Alto and allows you to see the giant El Alto market, possibly the largest and most popular in Bolivia.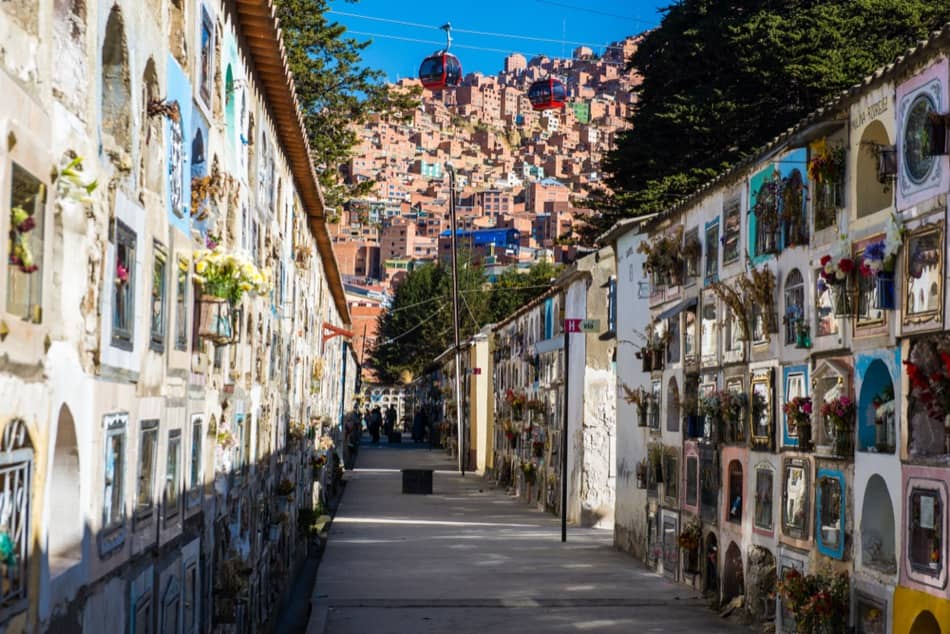 Yellow Line
It allows you to see the neighborhood of Sopocachi, where you will probably end up going for lunch or dinner at some cool restaurants and also have good views of the nearby mountains. Here you can find the best restaurants to eat in La Paz.
A ride on Mi Teleférico is very exciting – and offers great views of the city – and also a safe and practical solution for the thousands of suburban passengers who use it every hour. Locals can forget about traffic jams: on board these high-altitude cabins, a journey that used to take an hour now takes just 10 minutes.