The Salar de Uyuni, or Uyuni Salt Flats, are one of Bolivia's most popular destinations and one of the most unique locations in the world.
So how to visit Salar de Uyuni? To visit the Salar de Uyuni for the first time you should join a guided tour in a 4×4 Jeep. Tours may be one- or multi-day, with one-day tours available from Uyuni, La Paz and Sucre, and multi-day tours based in either Uyuni or Tupiza. You can also join a multi-day tour from Chile for a higher price.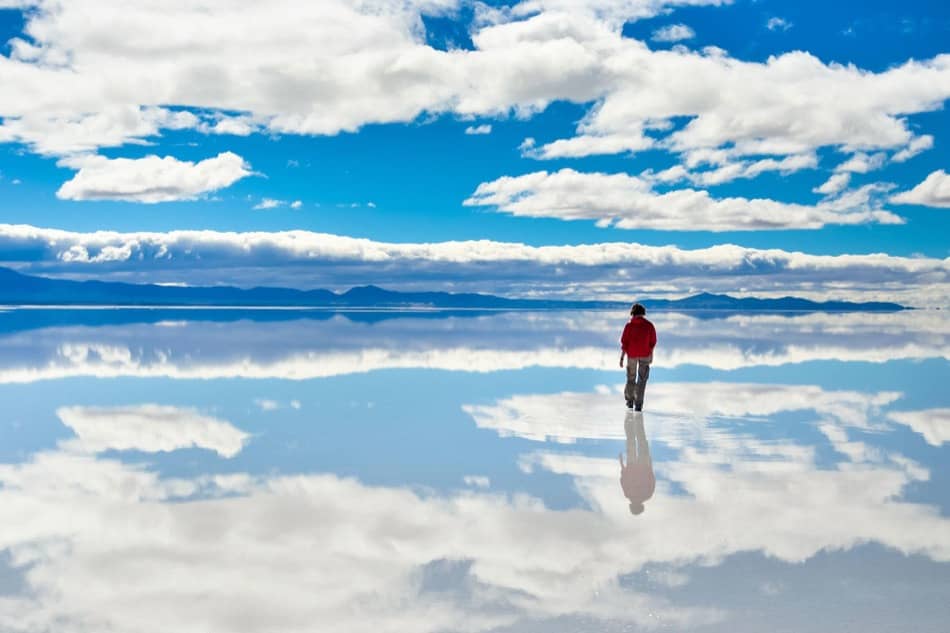 It seems you cannot mention any trip to Bolivia without featuring the Uyuni Salt Flats. The Salt Flats are known worldwide, and, at over 4,000 square miles, are the largest salt flats in the world.
To visit the Salt Flats, it is basically expected that you join a 4×4 Jeep tour, as they are huge and you will need that kind of vehicle and a guide to navigate them. Traversing the Salt Flats by motorbike and bicycle is also an option for those who truly want to immerse themselves in the landscape.
This article will provide a guide to planning your visit to this unique feature of Bolivia, including set-off points, transportation options, and an overview of the tours you can choose from.
What is the Salar de Uyuni?
Though now easily traversable by car and foot, the area where the Uyuni Salt Flats are now was once composed of numerous fresh and saltwater lakes. Over the course of centuries, the water of the lakes got displaced as the tectonic plates shifted under it, but it had nowhere to go because of its mountain barriers. As a result, the lakes essentially just dried up where they were, leaving their salt behind.
Today, the salt left over produces spectacular visual effects that attract visitors from all over the world.
Main Attractions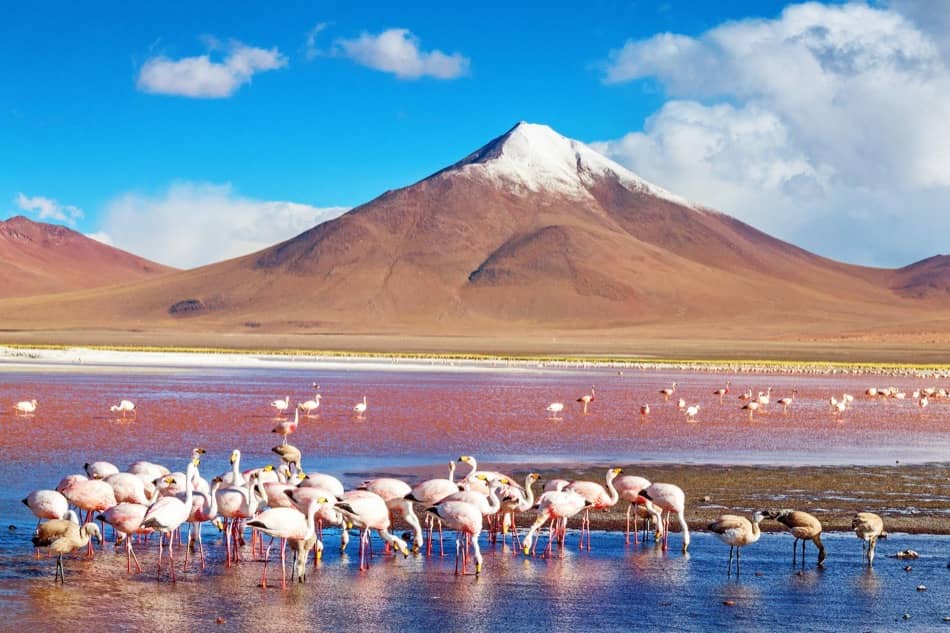 Covering over 4,000 square miles, it would be impossible to see everything worth seeing on a 4-day tour of the Salt Flats, let alone a 1-Day tour. So, since you will only have a set amount of days to explore this vast natural wonder, here is a list of some of the main attractions of the Salt Flats that you should make sure not to miss.
Incahuasi Island
Rising out from its flat white surroundings, this cacti-strewn "island" contrasts completely with the landscape surrounding it. All that remains of an ancient volcano, the island is home to birds, lava rocks, and coral structures from its days as an actual island. Climbing its hill provides a view of the Salt Flats that according to everyone who has visited it cannot be missed.
Geiser Sol de la Manana
Set in a volcanically active area close by the Salt Flats, these geysers can shoot boiling mud up to 164 feet high. While you cannot go too near the thin crust for fear of falling, visitors shouldn't miss the opportunity to capture the geysers spewing steam under their namesake sun in the morning. Most multi-days tours will lead you around this area, as you do need an experienced guide to ensure your safety.
Train Cemetery
This tends to be the first stop on a tour leaving from Uyuni as it is located on the edge of the town. The trains that had made their resting place here are early 20th century British Imports that never got to live up to their destiny, as Uyuni never became the transportation hub it was planned to be. With all the salt around, the trains have rusted to an extent rarely seen on such machinery.
Hotel De Sal Luna Salada
The Hotel De Sal Luna Salada, or Salt Hotel, is entirely made up of – you guessed it – salt. The Hotel is perched at the edge of the Salt Flats so rooms feature a panoramic view of the land. Many tours will include a stay in the hotel. Even if you can't afford or don't have the time to stay in a room there, it is worth checking out on your tour just so you can say you've seen a building made completely from salt blocks.
The Dali Desert
For those art majors visiting Uyuni, you will surely want to check out the Dali Desert. Rumored to be the inspiration for his landscapes, even though some say he never actually saw it in person, this desert contains all of the colors you find in the painter's work and more. Multi-day tours will take you by this natural masterpiece on the 3rd day or your trip.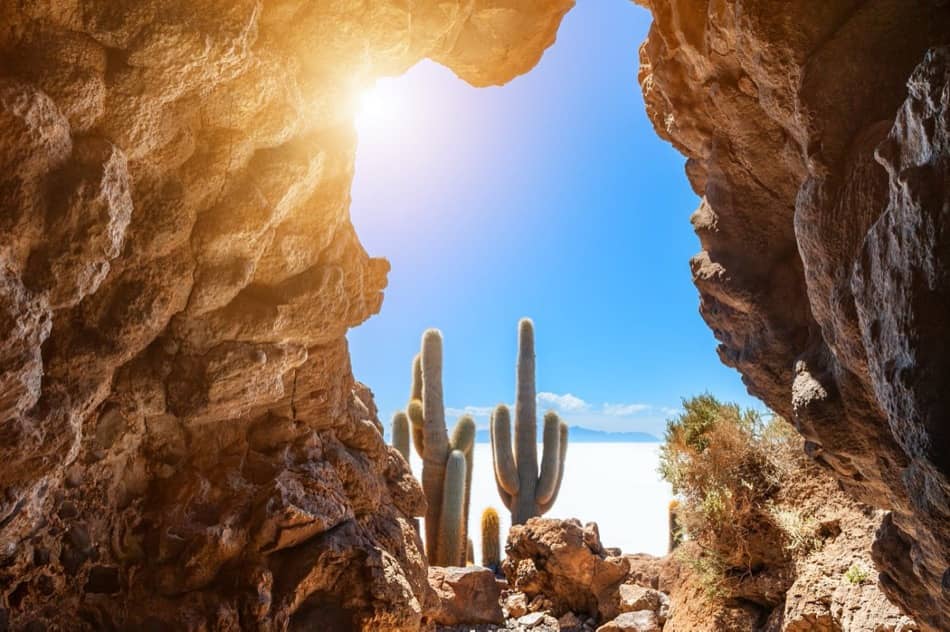 How to Get to the Uyuni Salt Flats
From the North (La Paz and Oruro)
There are three options to get to Uyuni from La Paz. The first is by bus. The bus ride from La Paz to Uyuni can take between 8 and 11 hours, depending on what time and what bus you choose. Some opt to take the overnight bus so you can hop on a tour as soon as you arrive in Uyuni.
If you aren't up for such a long bus ride, you can stop over in Oruro on your way, from whence you can catch a connecting bus to Uyuni.
While there is no direct train from La Paz to Uyuni, if this is your transportation method of choice you can take the 3 to 4-hour bus ride to Oruro, and from there you can catch a 7-hour train to Uyuni.
From La Paz you can also catch a short 50-minute flight to the Joya Andina Airport in Uyuni.
From the East (Sucre and Potosi)
You can get to Uyuni from Sucre via direct route or an indirect route. There is currently only one bus company that will take you directly to Uyuni, so if its schedule does not work for you will need to take the indirect route through Potosi. This is a pretty good option as buses for Potosi leave every two hours from Sucre, and the trip is only 3 hours. From Potosi it is a 5-hour bus ride to Uyuni.
For a shorter trip you can opt for a taxi to Potosi, which will cut about an hour off of your trip.
You can also choose to fly from Sucre to Uyuni, but note that these are indirect flights that will take you through either La Paz or Santa Cruz de la Sierra. However flying will get you to Uyuni much faster, as trips can range from 1 to 4 hours depending on how long the layover is.
From the South (Tupiza)
The closest southern city in Bolivia to Uyuni is Tupiza, from which you can take a 4-hour bus ride to get to Uyuni. Those who have made this trip before advise that you buy your ticket the day before to avoid a sellout, as many others will have the same idea that you do.
From Outside of Bolivia
If you're just coming for the Salt Flats and not interested in staying in Bolivia, there are plenty of options to get you on your way to the Salt Flats immediately after crossing the border. Some neighbors even offer tours from their own border cities.
Argentina
Directly after crossing into Bolivia from Argentina you will arrive in the city of Villazon, from where you can travel to Uyuni by either bus or train. Buses depart for Uyuni twice a day, and the train is scheduled for one departure a day.
The journey takes about 8 hours, which is why many travellers choose to break the trip up by stopping in Tupiza and heading out from there.
Chile
For those wanting to visit the Salt Flats directly from Chile, buses are available twice a day from Avenida Cabrera in the Chilean border town of San Pedro de Atacama. The journey will take 11-12 hours, so be ready for the long haul if you choose this option.
By spending a bit more you can also catch a tour to the Salt Flats from San Pedro de Atacama. For your extra money, you can expect a higher standard of tour operators and you will avoid the reportedly unpleasant bus ride across the border if you were to head to Uyuni from Chile on your own.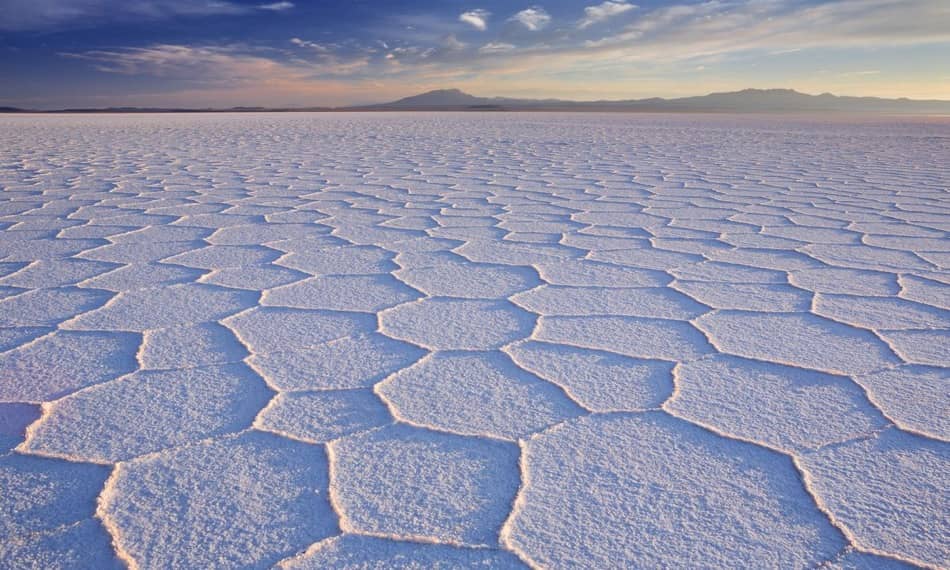 Uyuni Salt Flat Tours
Travellers setting out on a multi-day tour from Bolivia can choose to start the tour in either Tupiza or Uyuni proper. If you would prefer a day trip, you can hop on an overnight bus from La Paz or Sucre that will get you to Uyuni in time for breakfast and a full-day tour. These one-day tours can be booked to begin in your respective city, or you can book the tour to start in Uyuni once you arrive. And if you want to start or end in Chile, you can book a tour beginning or ending in San Pedro de Atacama.
It has been noted that the choice of tours beginning in Tupiza is a bit more limited, so you will want to research both options before you settle on one. You can pretty much assume that all tours from Tupiza will be 4-day trips and will be a bit more expensive than the ones starting from Uyuni.
Of note, the road from Tupiza to Uyuni will be closed if you visit during the rainy season, so make sure that you take that into account when making your plans.
Tours from Chile have been noted to be a bit more expensive, since Chile as a country costs more than Bolivia, but they are more comfortable according to those who have experience them.
Tours from Tupiza
Though still quite a ways (almost 3 and a half hours) from the Salt Flats, many travellers choose to stop in the quiet, frontier-style town of Tupiza before continuing on their journey to Uyuni. Tupiza's southwestern location offers an ideal rest stop and launch point for travellers after crossing over the Argentinian border into Bolivia. As a result, the Uyuni Salts Flats tour industry in Tupiza is quite prevalent. So much so that you can start your tour directly out of Tupiza, and even literally right out your hotel.
So, as long as you are happy with the mandatory 4-day tour option and spending a little more money than setting out directly from Uyuni, it is worth booking from Tupiza to avoid the hassle of having to travel to a new city on your own. Travellers also note that the route around the Salt Flats from Tupiza is more scenic and less touristy than the ones that set off from Uyuni. Plus, travellers reports that the Tupiza tour will end on the trip's highlight, while the Uyuni tours begin there.
Some popular tour companies and their details are provided below so you see if a tour from Tupiza may be the right choice for you.
La Torre Tours is a convenient option for those leaving out of Tupiza as it also runs the Hotel La Torre, so guests can book their tours and lodging at the same time. It offers more than 10 options to Uyuni, ranging from $195 to $450 in price per person and each featuring different locations and adventure levels. Information on a sample of these tours is as follows:
4 Day Trip from Tupiza to Uyuni – Standard Trip
$195 to $210 per person, depending on how many people will be joining
Private tour options are available from $840 to $975 per group
Basic accommodations with shared bedrooms and bathrooms
6 Day Trip from Tupiza to Uyuni – Full Lipez tour
$450 per person – Includes all sites visited on the Standard Tour and adds visits to the Ciudad del Encanto, Ciudad de Roma, the Sky, Blue Lagoon, and Black Lagoon
5 Day Trip from Tupiza to Uyuni – Climbing Licancabur Volcano
$245 per person
Includes all sites from the Standard Tour and adds a climb up the Licancabur Volcano
A second popular tour company out of Tupiza is Turistur Los Salares. This tour company offers tours starting from their hostel, Hostal Los Salares, so all you have to do is wake up and hop in the Jeep. They offer 5 tours that will take you to Uyuni, each via a different route so you can choose whether you'd like to add lagoons, volcanoes, or even a national park to your itinerary.
Prices per person were not available online for these tours, but group pricings ranged from $670 for two people to $745 for four people for a 4-day tour.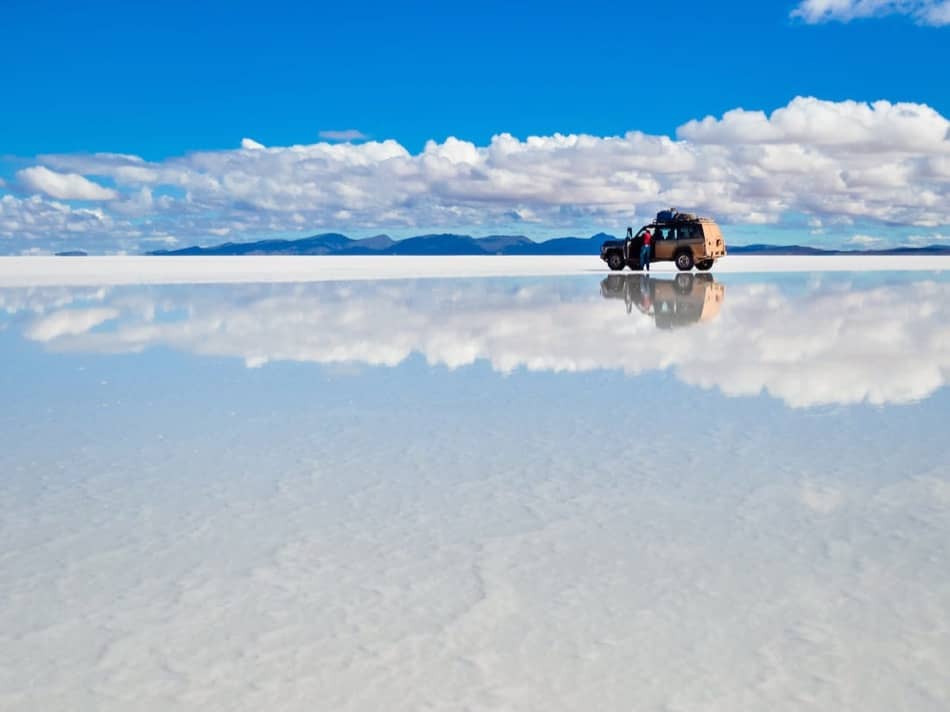 Tours from Uyuni
Assuming that you have already arrived in Uyuni via one of the means suggested above, you can either set out directly on your tour or staying in a hotel to rest up before your adventure. Actually, because of the altitude, it is recommended that you do stay in Uyuni for at least a day before your tour so you can acclimate to the environment in the comfort of a hotel rather than in the back of a bumpy Jeep.
There is quite a range of places you can stay in Uyuni, from ultra-luxurious to structures built out of the land itself. For those looking for ultimate comfort and an deco-friendly experience, try Kachi Lodge. If you want to check out downtown Uyuni, Tambo Aymara will place you right in the center of things. For an inexpensive night, Residencial La Cabana offers rooms for less than $20. And the ultimate stay is of course the Hotel De Sal Luna Salada, though your tour may include that anyway.
Once you feel ready to hit the road, you shouldn't have any problem finding an available tour. Below is a list of some of the companies and their tour options that are available leaving out of Uyuni.
Red Planet offers 3-day tours starting at $210 per person. Price includes:
-English-speaking guide
-Meals
-One night in the Salt Hotel, possibly with private bathroom
-One night in a basic hostel with shared rooms and bathrooms.
Perla de Bolivia offers shared and private tours. Shared tours are 3 days, and private tours can be 2, 3, or 4 days and include an English-speaking guide.
-Shared tours are $190 per person and include meals, a private room for your first night, and a shared room for your second night.
-Private 2-day tours can range from $135 to $744 per person, depending on how many people will be joining the trip. They include basic accommodations and meals, but you can opt for a 3-star hotel for an additional fee.
-Private 3-day tours start at $207 per person and go up to $1136 based on the number of people in the group. As with the 2-day tour, you can opt for 3-star hotels for an additional fee.
-Private 4-day tours cost $289 to $1590 per person, with nicer accommodations adding to the price.
One-Day Tours
If you book a one-day tour in Uyuni, your tour will start at 10 am and finish at 5 pm. These tours typically start at the train cemetery and take you through the town of Colchani, and will show you the Salt Hotel, the Salt Museum, Incahuasi Island, and the salt mounds that spot the landscape.
These one-day tours range from about $70 to a little over $100 per person, and you can book them through companies such as Ruta Verde, Perla de Bolivia, and Red Planet.
If you'd prefer to have your travel to Uyuni worked out for you, you can join a tour that starts in La Paz or Sucre. You will still travel overnight to get to and depart from Uyuni, but you won't have to worry about catching your transportation yourself, as your tour will pick you up from your hotel. These tours run about $100 per person.
Tours from San Pedro de Atacama
The sole option if you want to take a tour directly from another country to the Salt Flats, the journey from Chile to Uyuni is an adventure in and of itself. The trip to Uyuni takes you across Bolivia's Altipano, or Andean Highlands, so you can take in the mountain views while you travel to your prime destination.
Salt Flats tours are available in multiple options and from multiple tour companies, a few of which are described below so you can get an idea of what to expect if you choose the Chilean route.
Keteka offers a wide variety of touring options to the Salt Flats. If you go with this company, you can select Superior or Economy, Round-trip or One-way, and even specify Rainy or Dry season. Prices per person range from $195 to $2300, so you will definitely want to carefully consider what kind of tour you want before booking.
Below is a list of some of the Keteka tours you can choose from:
San Pedro de Atacama to Uyuni – Budget (4 Days Round-trip)
– $195 to $440 per person.
– Basic lodging with shared rooms and bathrooms at hotels and hostels. – Private rooms can be purchased for an additional price.
San Pedro de Atacama to Uyuni – Superior (4 Days Round-trip)
– $902 to $1290 per person
– Semi-private experience with a maximum of 4 people
– Lodging at the best hotels in the area with private rooms and bathrooms
San Pedro de Atacama to Uyuni – Economy (3 Days One-way)
– $273 to $338 per person
– Up to 6 passengers in a car
– Basic lodging at hostels with shared rooms
Cruz Andina Travel is another Chilean tour company that offers a range of round-trip and one-way tours options at various price levels, depending on whether you want to travel in a group or have a more customized experience. Tours with Cruz Andina range start at $190 per person for a group tour and can go up to $1,990 for a private tour.
A sampling of tours with Cruz Andina is below:
Shared Tours in Hostel, 3 Days, One-way
$190 to $240 per person
Shared rooms at a hostel on the first night, with private rooms available at extra charge
Stay at the Salt Hotel on the second night in a private room
Private Tours in Tayca Hotels, 3 Days, One-way
$550 to $1500 per person depending on size of group
2 nights at 3-star hotels with private rooms and bathrooms
Shared Tours in Hostel, 4 Days, Round-trip
$225 to $290 per person
Shared rooms at hostels on first and third nights, shared room at Salt Hotel on second night. Private rooms available for additional cost.
Motorbikes, Bicycles, and Other Tour Options
For those who are looking for a different way to view the Salt Flats, Kanoo Tours and El Mundo Travel Verde offer 1-day motorcycle tours that are designed for riders of all levels, provided you have a motorcycle license. Of note, this kind of tour can only be booked during the dry season as the rainy season makes it too wet to bike the Salt Flats safely.
These trips include stops at the usual haunts including the Salt Hotel, Incahuasi Island, and the train cemetery.
The Kanoo Tours trip costs $250 per person, and no price was available for El Mundo Travel Verde.
Traveling by bicycle is also an option, though be ready for a serious work out. Nomada Experience provides bicycle tours as well as bicycle rentals so you can explore independently. Tours are half, one, or two days and range from $170 for a half-day to $370 for a one-day tour, and cost $480 for a two-day tour. Rentals are $35 a day.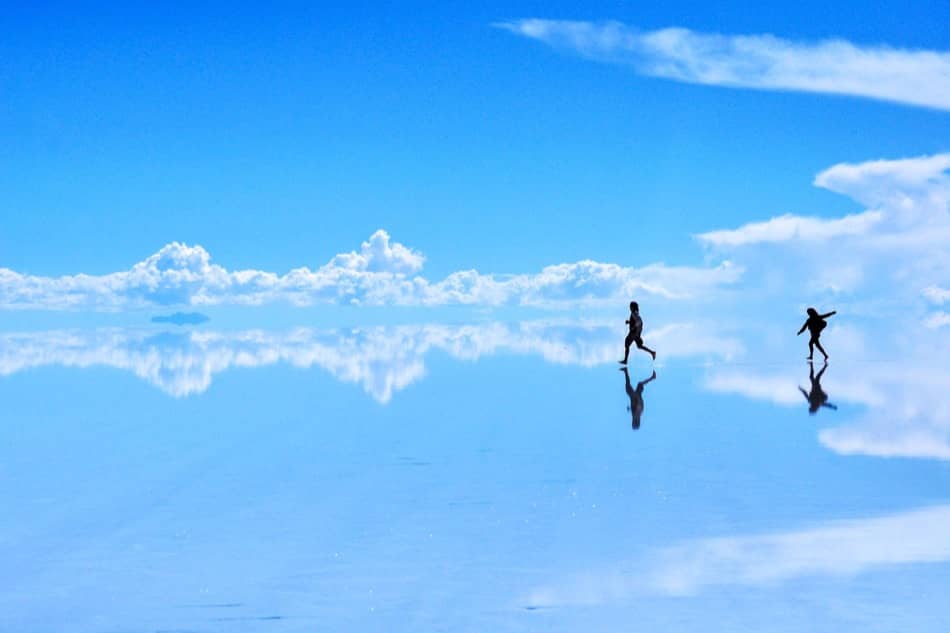 What is the Best Time of Year to Visit Salar de Uyuni?
Travellers come to visit the Salt Flats year-round, as they are spectacular no matter what season you seem them in. Since Bolivia is divided into a wet and dry season, you can expect mild differences in your experience depending on when you choose to visit.
April through October is largely deemed the best time to explore the Salt Flats, as this is the dry season so you will not have to worry about any roads being flooded. Of note, if you choose a tour starting from Tupiza, the road to Uyni will be closed during the rainy season. However, travellers who have been to the Salt Flats in the rainy season report that the rains create an absolutely amazing mirror effect that is worth any mud or inconvenience. Thus, it really boils down to your priorities and how much flexibility you have with your schedule and route.
What Should I Bring When Visiting Salar de Uyuni?
As the Salt Flats are essentially a high-altitude desert, be prepared for a wide temperature swing over the course of the day. Here is a list of items recommended by people who have taken tours across the Salt Flats before:
Wear layers. It will be very cold in the morning but will get hotter as the day goes on.
Sunscreen and sunglasses, as there is no shade on the Salt Flats.
Flips flops or water proofs shoes, as you will be walking in a layer of water, an a thicker layer if you a visiting during the rainy season
Winter and summer clothes, including a hat, scarf, and a swimsuit if you want to jump in hot springs.
Raincoat
Camera and camera charger
Water and snacks. Some tour companies provide more provisions than others, so you will want to check to see what you can expect food- and drink-wise when packing your bags.
Flashlight, for exploring after dark
Extra blankets and/or a sleeping bag in case your hotel or hostel is cold at night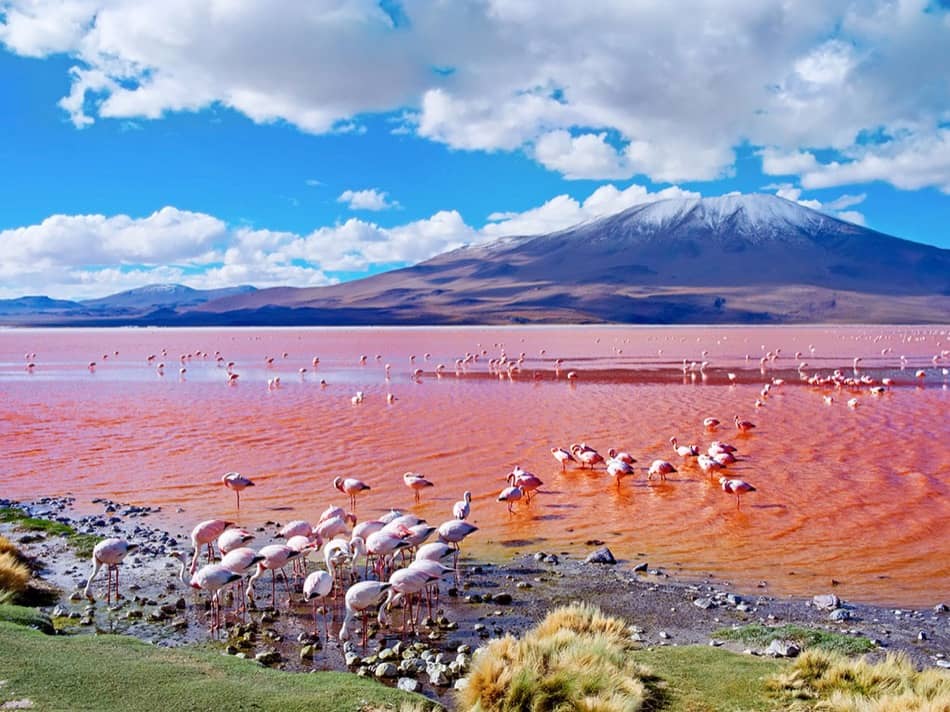 A Trip To Remember
No matter what kind of tour you choose for your first visit to the Uyuni Salt Flats, it will undoubtedly be an experience unrivalled by any you have had before, or will again. Just be sure that you are prepared for the weather and the volatile environment, and get ready to lose yourself in this amazingly unique natural phenomenon.