For those wanting to experience the authentic rural side of Bolivia, you cannot pass up a trip to Tupiza.
Located in the southwest corner of Bolivia, Tupiza offers a glimpse into the rustic, rural life that you cannot find in the larger cities. Though you can enjoy markets and street life just as you would in the other cities, the main attraction of Tupiza is the opportunity to explore its surrounding desert landscape.
With its red rock canyons and frontier feel, Tupiza offers the perfect exotic location for an adventure in your own Wild West.
Tupiza may be more widely known for its proximity to the Uyuni Salt Flats, which make it an ideal launchpoint for a tour of that area, but Tupiza itself offers a unique experience of Bolivian culture and nature.
As a small town, free from the tourist bustle Bolivia's larger cities, Tupiza allows travellers an intimate look into the daily life of its residents. It also offers a landscape that most of us only associate with the North American West and the Hollywood movies set in them.
If you're still planning your trip, here are the best places to stay in Tupiza.
You can check out the latest deals on hotels in Tupiza here.
Things to Do in Tupiza
As a small town, Tupiza offers an insight into Bolivian culture that you may not get in a larger city, where crowds and tourist groups can distract from the experience. There are many activities you can participate in within the town that will make you feel part of its daily routine.
The Marketplace
Travellers report Tupiza's marketplace to be a less crowded, more manageable snapshot of a typical Bolivian market; here you can get the full experience of the market, but without the hassle and commotion of the larger city markets.
The main market, Mercado Antonio Gilduran, is located in the center of town. It takes up a square block of the city and is easy to access from hotels, hostels, and restaurants. The farmer's market here is open daily, with stalls and street vendors selling meats, fruits, and vegetables. It also features a food court where you can purchase an inexpensive meal for breakfast, lunch, or dinner.
A few streets away to the south there is a smaller market called Mercado Central. This market is indoors and you can find clothing, electronics, and other various items. Walking from Mercado Antonio Gilduran to Mercado Central you will pass even more food stalls, as the vendors extend beyond the main areas and populate the sidewalks near the markets and even around the entire town.
Twice a week, on Thursdays and Saturdays, another market pops up outside the train station. This outdoor market sells clothing and electronics as well, and travellers have also reported knock-off DVDs to show up for sale here.
Of note, however, upon visiting markets in other cites after Tupiza, travellers have discovered that prices for goods were way higher in Tupiza's markets than in other cities. So just be wary of being charged too much for simple items that you may be able to find for less elsewhere.
Plaza Principal
This is the main plaza in Tupiza and it features a water fountain at its center. It is a short walk, only two blocks, from the market. The plaza offers a shady place to sit and view the historical buildings surrounding it. It also is the home of the Avelino Aramayo statue, honoring the founder of the city's mining industry.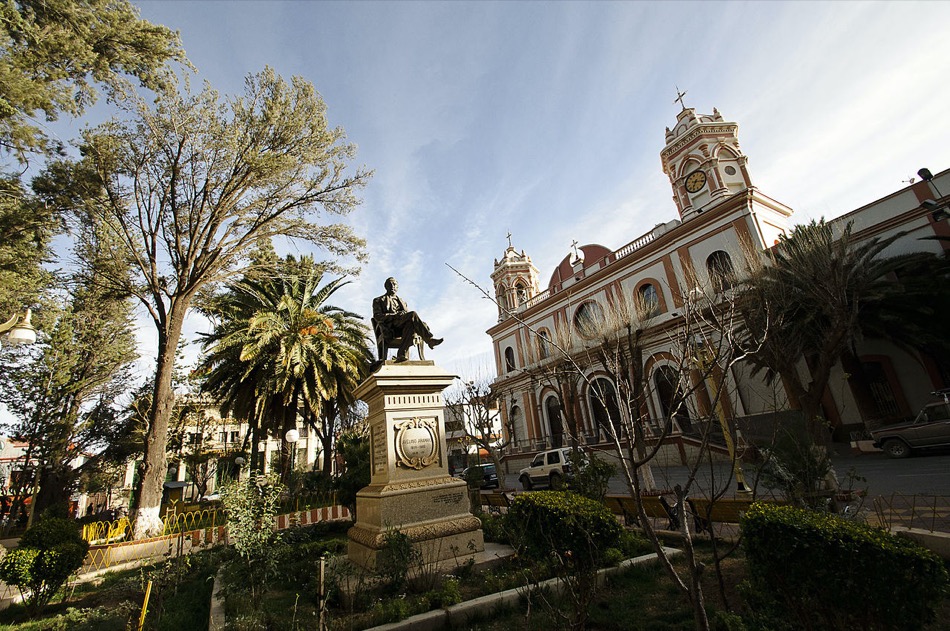 Municipal Museum
For a condensed history lesson of Tupiza, you will want to visit the Municipal Museum. It features cultural and historical artifacts such as antique household items and farming too, as well as photographs of the town in its olden days.
Other sites to check out include:
Plaza Independencia, home to the Arbol de la Paz (Tree of Peace)
Iglesia Matriz
Cathedral of Our Lady of Candelaria
Estadium Hernando Siles (not to be confused with the larger one in La Paz).
Various other parks and squares litter the town as well if you'd like to find somewhere a little off the main tourist path to take a break and soak in your surroundings.
Things to Do Around Tupiza
Though the town of Tupiza offers a beautiful glimpse into its history and culture, most everyone will agree that the place you want to be is outside the town limits. You can hike to most anything worth visiting, but it is also easy to rent a horse or jeep so you can cover more ground.
Cerro de la Cruz
For those included to head out on foot, Cerro de la Cruz is a great option to get out into the wild and a great view of the town at the same time; it is one of the two lookout points over Tupiza.
To get to the hill, you first need to walk (or take a quick bus ride) about 3 kilometers out of the town borders. A small white church marks the entrance to the trail, which is actually made up of steps carved in to the rock. If you have any trouble finding it, as some do, you can ask any local to guide you.
Travellers who have made this climb before report that it takes about 50 minutes and is quite steep. They advise that you bring plenty of water and that you avoid going in midday, as there is little shade along the path.
Cerro Corazon de Jesus
Cerro Corazon de Jesus is the second lookout point over the town. This point is only a 15-minute walk from Plaza Principal and much of the route is through residential streets. Though a smaller hill than la Cruz, the view of the town nestled into the surrounding mountains is reported to be spectacular.
Cordillera de Chicas
This is the name given to the red-rock formations that surround Tupiza. To visit this vast site, it is recommended that you travel on horseback or by jeep, as they cover an extremely large area and you will want to be able to explore as much as possible. Even with a faster transport you should not expect to see them all, though, as there are more than a dozen groupings of the rocks and you would need to stay at least a week or two to get to them all.
Each group of formations comes with its own name. Ones that can be reached by foot are Valle de los Machos, Puerta del Diablo, and Cañon del Inca, so these may be your best bet if you are only staying or a few days and don't want to splurge on any horsepower. However, if you do want to experience the canyons via faster means, multi-hour or multi-day tours are available.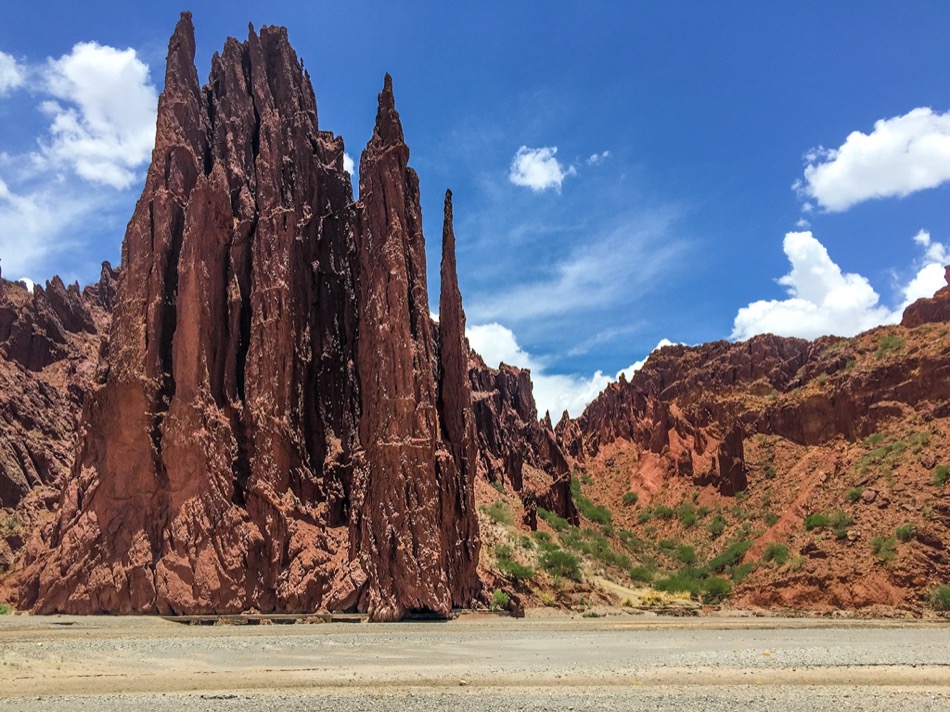 Tours and Trips
Uyuni Salt Flats
It seems you cannot mention any trip to Bolivia, or Tupiza in particular, without featuring the Uyuni Salt Flats. The Salt Flats are known worldwide, and, at over 4,000 square miles, are the largest salt flats in the world. Though not located in Tupiza proper, Tupiza's location offers an ideal rest stop and launch point for travellers making their way across Bolivia to the Salt Flats.
To visit the Salt Flats, it is basically mandatory that you join a tour, as they are huge and you will need a 4×4 vehicle and a guide to navigate them. However, it is possible to travel the Salt Flats on your own in a group via motorbikes or bicycles, though it is probably not advisable for anyone going there for the first time and not Olympian-level fit.
You can choose to start your tour in either Tupiza or Uyuni. It has been noted that the choice of tours beginning in Tupiza is a bit more limited, so you will want to research both options before you settle on one. You can pretty much assume that all tours from Tupiza will be 4-day trips and will be a bit more expensive than the ones starting from Uyumi, but as long as you are happy with 4 days and spending a little more money, it is worth booking from Tupiza to avoid the hassle of having to travel to a new city on your own.
Importantly, travellers have said that the tour operators in Tupiza are much more reputable than those in Uyuni. You also get to travel to Uyuni in a jeep, which may be a more comfortable option than the bus you will need to take if you choose a Uyuni-starting tour. The jeep drivers will also stop and let you take pictures of the scenery along your journey, so this adds some extra sightseeing into your tour.
If you do choose to book from Uyuni, you will need to get there first, for which there are several options. First, you can take a bus. You can purchase your ticket from the bus terminal, which is located about a ten-minute walk from the central plaza. Those who have made this trip before advise that you buy your ticket the day before to avoid a sellout, as many others will have the same idea that you do. The trip lasts about 6 hours, and is not reported to be comfortable.
Of note, this road to Uyuni will be closed if you visit during the rainy season, so make sure that you take that into account when making your plans.
Butch Cassidy and the Sundance Kid
Another thing you cannot avoid when researching trips to Tupiza is the town's connection to the famous American outlaw duo, Butch Cassidy and the Sundance Kid. It is rumored that Tupiza is the location of the final shootout after the robbing of a mine in San Vicente, and also the spot where the two are buried. San Vicente even opened a museum to commemorate this spot in history and culture.
If this piques your interest and you want to learn more, you can book a tour that will take you along their doomed path to San Vicente and to the museum built around it. This tour is run exclusively by Tupiza Tours, and you actually cannot get into San Vicente without joining a tour, as officials will not allow entrance to strange vehicles, and it is difficult to get into the museum with a guide. The tour lasts two days and is reserved for two people at a time.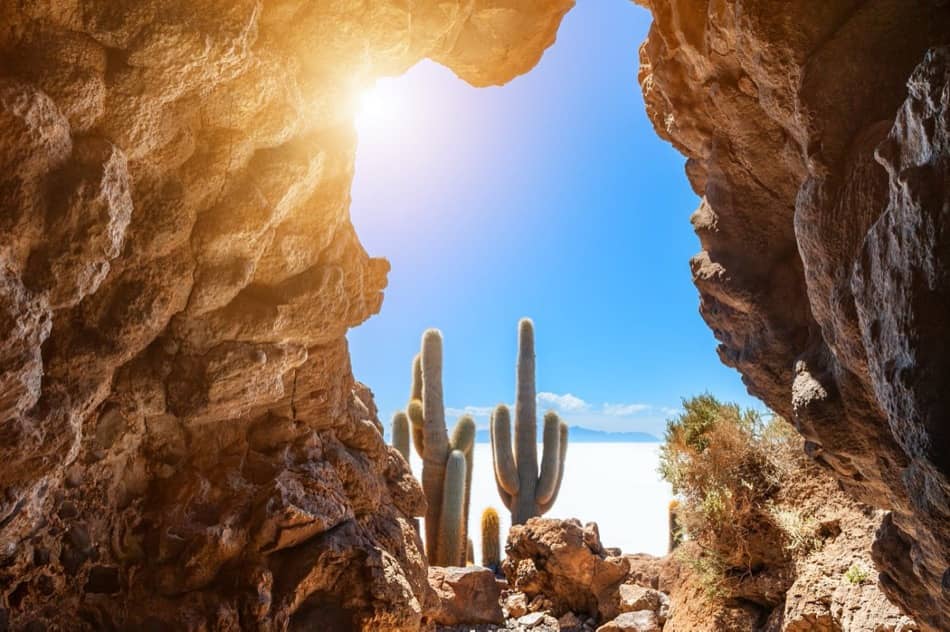 Tour Companies
There are a myriad of companies offering tours in and around Tupiza, so you will want to do some research before selecting the one that best suits your needs. Some highly rated tour companies providing a range of experiences are listed below.
Alexandro Adventure Travel runs jeep tours of the lansdscape directly surround Tupiza, including the Cordillera de Chicas, as well as to the Uyuni Salt Flats. Horseback tours are available as well.
La Torre Tours is mostly known for its tour to the Salt Flats, but the company also offers tours by jeep, horseback, bicycle, or all of the above, in Tupiza itself.
Turistur Los Salares takes travellers all over southern Bolivia via jeep, horse, or on foot. In addition to the usual location of Uyuni, this company offers trips to the Sajama National Forest in Oruro, the Eduaran Avaroa National Reserve, and even to Chile. This company also owns its own hostel in Tupiza, so you can coordinate your accommodation with the company as well.
Other Destinations
While the Uyuni Salt Flats tours dominate the web, you should not feel limited to go on an organized tour. If you head out from Tupiza in any direction you will encounter a new and different experience, so you may just want to check out a map and see how far you want to (and can) go.
Villazon is a short bus ride from Tupiza, only about an hour and a half, and from there you can easily cross the border into Argentina at La Quiaca if you'd like to hop into a new country for a bit.
If you're up for taking a longer bus ride for a day trip (around 4 hours), you can go wine tasting in Tariji for a change in pace.
Getting To and From Tupiza
As Tupiza is a small town, getting in and out can be more of a challenge than to the larger cities such as La Paz or Sucre. Since there are no flights directly to Tupiza, your options are limited to ground travel via other cities.
Bus
One option to get to Tupiza is by bus. Some recommend flying to Tariji and then taking a bus to Tupiza, which takes a little over 4 hours. You can also take a bus directly from Potosi to Tupiza, which takes about 6 and a-half hours. If you are up for a longer trip, you can catch a bus directly from La Paz, which will take you on an 11-hour ride to Tupiza.
To get from Sucre to Tupiza you have to take an indirect route. From Sucre, you can take a bus to Potosi, from which you can catch the 6 and a half-hour bus to Tupiza.
Getting out of Tupiza can be a bit more difficult; since it is such a small city, there are only one or two departures from Tupiza per day. Daily destinations by bus include La Paz, Potosi, Uyuni, and Villazon.
Train
Some view train as the best way to travel between the north and south of Bolivia, and Tupiza in particular. If you fly into Oruro, you can catch a train from there to Tupiza. You can also take a train to and from Uyuni to get to Tupiza. Villazon is another city that is connected to Tupiza by train.
Where to Stay in Tupiza
Tupiza offers a good variety of places to stay, both in price and luxury-level. Granted, there are no 5-star hotels in Tupiza as there would be in the larger cities, but it can be assumed that if you have chosen stay in Tupiza you are perfectly comfortable with a hostel or two.
Hotels
Hotel Mitru is actually operated by the sample people who run Tupiza Tours, so if you can afford it this is an ideal option for those interested in touring during their time here. It is conveniently located less than 1000 feet from the train station, less than 2000 feet from the bus station, and a block from the main square. It advertises a pool, a garden, and even horseback riding.
For those looking for a view within the town, El Grano de Oro Hotel is located right next to Tupiza River and features a terrace. It is also conveniently located within a block of the bus station and easy walking distance from many restaurants and plazas.
Hostels
For a hostel experience that also provides easy access to tours, you should try the Hostal Valle Hermoso. Not only do they provide expected services such as cable TV and breakfast, the owners also run a tour company that offers jeep tours around the south of Bolivia and even to Uyuni.
Hostal Butch Cassidy
As suggested by its name, Hostal Butch Cassidy channels the rugged Wild West. Located on the eastern shore of the Tupiza River, it does not offer the easy accessibility to bus and train stations and markets as the lodgings on the west side. Instead, it provides a quiet respite from the city, closely surrounded by hills and canyons.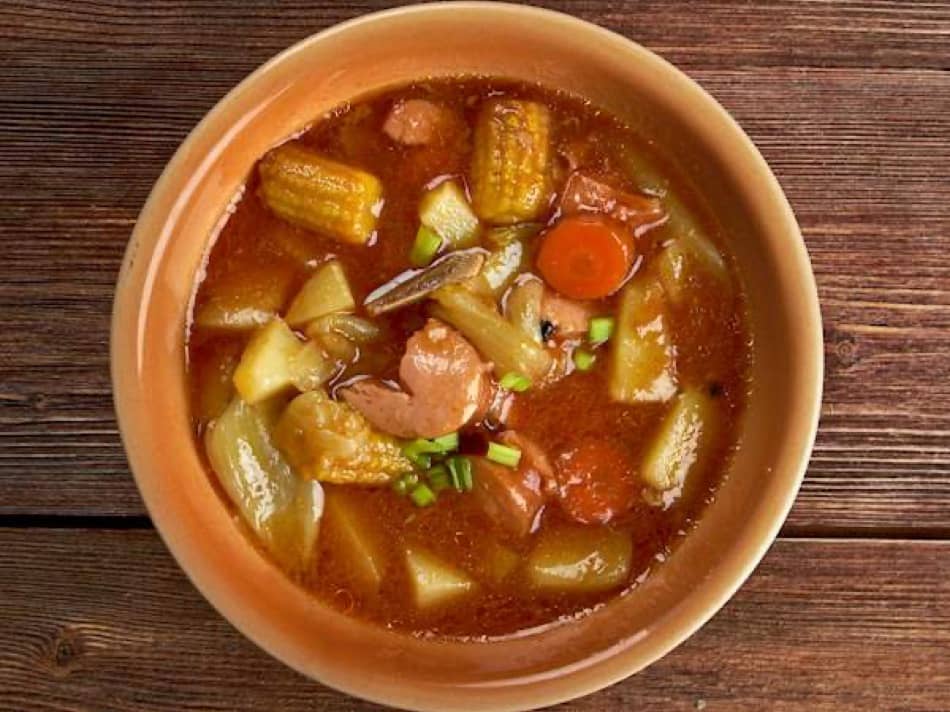 What to Eat and Drink in Tupiza
Food
While all travellers recommend checking out the Mercado Central for good, cheap, authentic food, it is worth coughing up a bit more cash to see what Tupiza's restaurants have to offer.
For a town that is so out of the way, many travellers are surprised by the large number of pizza and Italian restaurants in Tupiza. One of the top-rated ones is Restaurant Pizzeria Pastipizza, which is located almost smack in the middle of the town and is ranked as a cheaper option. If this one does not appear to you, within a block of this restaurant you can find at least 3 other pizza joints to choose from.
For those looking for more authentic fare in a restaurant setting, the Green Planet Restaurant Drinks Shop comes highly recommended and is popular with locals. Classified as fast, inexpensive, and vegetarian friendly, and close to the bus station, this is a great option for a quick bite that will appeal to everyone.
You can also find Mexican food, steakhouses, barbeque, and numerous other restaurants featuring traditional Bolivians foods. El Alamo Tupiza and Bajo El Mismo Cielo both offer Pique Macho, so if you are craving a heap of meat over a pile of fries you can head to one of these, or even try them both to decide on the best.
Drink
Though Tupiza does not offer much in the way of nightlife or bars, the few it does have are highly rated. Vinoteca El Origen is located near the town center and is known for its organic wine, cozy, artistic atmosphere, and live music. Local craft beer is also on tap, as well as coffee, and handmade jewelry and clothing are for sale in a shop next to the bar.
Slightly further out but well within the town limits is Diver Gente. This is the place to go if you want to dance under disco lights and down some cocktails with a larger and more rambunctious crowd, large and rambunctious being relative terms in Tupiza.
As for the morning, there are plenty of coffee shops where you can recover from the night out before. Most are located near the center of town, but even if you stray into the outskirts or cross the river to the east side you will not lack in choices. Many coffee shops double as restaurants so you don't have to worry about finding two places first thing in the morning.
Frequently Asked Questions about Visiting Tupiza
What if I need to withdraw money in Tupiza?
Travellers report that there are a good number of ATMs in the town so you do not need to worry about bringing too much cash into town with you.
What currency is used in Bolivia?
As in all of Bolivia, the currency is the boliviano.
Will I need to be fluent in Spanish to get around Tupiza?
Since Tupiza is a smaller town with less upper-class residents, it is advised that you at least bring some basic Spanish language skills with you. However, because Tupiza a relatively high-flow area for tourists and backpackers, English-speaker travellers say they have not had many problems finding at least someone who could speak English to help them around.
It has been noted though that some tour guides and drivers do not speak English at all, so when booking a tour you may want to ensure that you will be able to understand your guide.
How safe is Tupiza?
Travellers have reported that they feel quite safe when exploring both the town and outskirts of Tupiza. However, it is known that Bolivia is a poor country in general and so you should never been too careful about protecting yourself and your belongings. People who have stayed here recommend also telling someone at your hotel or hostel where you are going, and never taking any non-essential valuable items with you when you leave your room.
About Tupiza
Tupiza is located in the southwest area of Bolivia in the Potosi Department, and is the capital of the Sud Chichas Province. Built into an agricultural valley in a region of the Andes Mountains, its elevation is about 2840 meters and its population is around 25,000. The landscape is characterized by its red rock canyons, cacti, and ravines. In fact, it is commonly referred to as Bolivia's western frontier town because of its similarities to America's popular ideals of the Wild West.
Though it has not been proven, there is evidence that Tupiza is the second-oldest city in Bolivia that was not founded by the Spanish. Historians believe that Tupiza was founded between late 1535 and early 1536, claims which are based on reports that the Spanish conquistador Diego de Almagro used Tupiza as a supply base for his explorations to Chile. If these claims are true, this would make Tupiza the oldest city in Bolivia founded by the Spanish, along with Oruro.
Tupiza was once as an important mining hub, specializing in silver, tin, copper, antimony, and several other metals. However, it is now mainly a center for commerce, agriculture, and trade since the demand for these materials fell. Given its rural location, the rearing of livestock is also an important livelihood for its residents.
Heading into a New Frontier
While it may be more difficult to access and less comfortable than the well-traversed cities like La Paz and Sucre, everyone who has been there more than recommends a thorough visit to Tupiza, and one that is more than just a rest stop on the way to Uyuni or the border. As others before you, you may find exactly the kind of bona fide adventure you were looking for when planning your trip to Bolivia in the first place.