If you tell anyone, "I'm travelling to Bolivia", their most probable response is "Is Bolivia safe?" Trust me, I know. I've been traveling to Bolivia for years. Even before the chaos of the pandemic, I had family members and friends telling me not to go.
Travel to Bolivia is very safe if you have common sense and know what to expect. Be prepared, and don't expect a five-star resort vacation. Most visits to Bolivia are trouble free as long as you take sensible precautions when you're in crowded areas.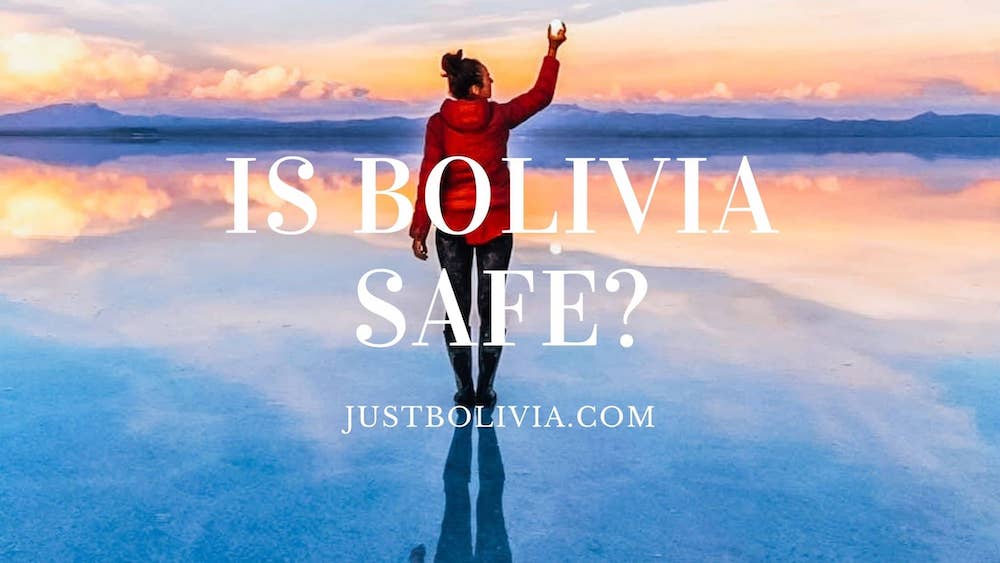 So, is it a safe time to travel to Bolivia? With civil unrest and COVID-19 turning the world upside down, this question is more important than ever to answer before planning the trip of your dreams.
Why do people think Bolivia is unsafe?
Bolivia is the kind of destination that seems too beautiful to be true. If you're like me, you've poured over pictures of the Uyuni Salt Flats or the Laguna Colorada (The Red Lagoon) or the La Paz markets imagining the day when you'd take that trip you've dreamed about.
But is it a good time to travel to Bolivia?
There are various reasons for civil unrest in Bolivia and researching it before you travel to Bolivia is key.
Morales' Failed Referendum
Bolivia going through a period of what people are terming a state of "Civil unrest." Why is this? Bolivian President Evo Morales' has run for and successfully won the presidency of Bolivia for three terms. Only this past year, Morales pushed a referendum which would allow him to run for a fourth term. This referendum failed which forced Morales to concede the term. The election, which has recently been pushed a year due to the pandemic, will be in October 2020. As you might guess, this has caused unrest for many of the Bolivians, those who like and dislike Morales alike.
Due to all of this unrest, three things have emerged: Protests, Demonstrations, and Road blockages. If you take a look at the U.S. State Department website, it states that roadblocks and the like can occur at any time. As a tourist, this could put you in a risky situation. There have been incidents of violence during these demonstrations and even police violence with the use of tear gas to contain a crowd. Whether a traveler or local, this is something important to stay aware of.
COVID-19 Travel Restrictions
Another aspect to consider is the COVID-19 pandemic. While this may open up opportunities to see and do things that would normally be overcrowded with tourists, the dangers of the virus have had an affect in many aspects of travel. International travel has just recently started opening up and there are very specific guidelines to follow.
First, you must present a COVID-19 PCR test that is dated within seven days of your travel into the country. Further spread of the virus is being controlled through this rule. On top of this, international travelers must have this test endorsed by the Bolivian Consulate. Any failure to comply with these rules will result in a period of quarantine for the traveler.
Secondly, there is a curfew. Currently it between 8pm and 5am Monday through Friday, and 4pm to 5am on weekends. Similarly, to many places around the world, face masks are required in any public place.
The biggest goal you should set for yourself is to be educated. Know what the restrictions are and do your research. These conditions are always changing, so any traveler should continually check the U.S. Embassy's web page.
Other Factors
Aside from the political unrest and health crisis, there are other factors that are important to know about before travelling to Bolivia.
Bolivia can be dangerous because of drug trafficking. It is the third largest cocaine producer in the world. Because of this, use common sense and don't travel at night.
A pro tip is to avoid travelling to or from Copacabana to La Paz overnight as these are well known tourist areas that are often taken advantage of. The top dangers reported in Bolivia today are pickpockets and scams.
So, the key is to be aware of the hot spots: places like La Paz, Cochabamba, or Oruro.
Popular Scams to be aware of:
The "I Spilled Something" Scam: A common scam is when a stranger spills something on you, most commonly a drink. They will use it as an excuse to "clean you up" and "clean you out" at the same time. A pickpocket's scam.
The "Police Imposter" Scam: Another common scam is a stranger, dressed as a police officer, will approach you to pay a sum of money for a fictious reason or ask for identification then run with it.
The "False Tourist" Scam: Another scam to lure tourists is when another "friendly tourist" will try to befriend you, and either invite you over to another "friend's" house to either rob or kidnap you.
What Makes Travel to Bolivia Worth Travelling to?
Bolivia is known for some of the most beautiful spots in the world, but it is also known for a rich cultural history and demographic. This along with its breathtaking scenery such as the snowcapped mountains, active volcanoes, dreamy valleys, mystic markets, and colorful lagoons make it a truly unique place to travel to.
Rich Cultural History
Bolivia is the most indigenous country in the Americas. While the most common language you will run into is Spanish and a little of Quechua and Aymara, there is a plethora of other indigenous languages you might hear throughout your travels.
Bolivia is also the birthplace of the Inca Civilization which is the largest pre-Columbian empire in South America. They lived throughout the Andes Mountains. Their history is known primarily through oral tradition which makes Bolivia a beautiful preservation of this history as the country with the largest ratio of indigenous Native Americans.
Places to Go
There are iconic places to see and things to do such as biking Death Road or seeing the remains of dinosaurs in Toro Toro. Some must be mentioned when discussing the iconic sights of Bolivia.
There is a stretch of road from La Paz to Yungas called North Yungas Road, or more commonly refered to as "Death Road." The road ascends 4650 meters at a pass called La Cumbre Pass and then, at Coroico, falls abruptly to 1200 meters. It is considered one of the best things to do in Bolivia.
There is another stretch of land called Salar de Uyuni, or better known as the Salt Flats. It is previously a prehistoric lake that expands for what looks like forever. It is currently the larges salt flat anywhere in the world.
Another iconic place to visit is during sunset at a location called the "Valley of the Moon." This is a clay and sandstone mountain aged and shaped by the elements into canyons and stalagmites.
Next is the Lguna Colorada or the "Red Lagoon." This is a salt lake, turned bright red due to the distinctive red sediment and algae that surrounds it. Sometimes, there are special puna flamingos in this area.
Many don't realize that the Amazon rainforest is accessible from Boiliva. If you begin in the town of Rurrenabaque, there are a few trails to take that will take you through the more shallow parts of the jungle on the edge of the Amazon basin.
As strange as it sounds, another very unique place to visit is the "Great Train Graveyard" on the outskirts of Uyuni. Masses of abandoned, rust colored British trains from the 1940s are within this graveyard and can make for an eerie sight or perfect opportunity for photos.
Lake Titicaca is the world's largest high-altitude lake and is the birthplace of the Inca civilization which flourished between c. 1400 and 1530 CE. It is full of beautiful traditional villages, ancient ruins, and ceremonial sites.
The Colonial City of Sucre is often called the "White City." It amazingly has the largest collection of dinosaur prints in the world! It also has a distinctive feel because it is not as much of a tourist trap, but instead is a local's place.
There is so much to do, and I wouldn't want you to miss out, so below is a list of other incredible bucket list things to do!
Sajama
Illimani Mountains
Dinosaur remains in Sucre or Toro Toro
Copacabana
Colonial Area of La Paz, Sucre, or Potosi
Samaipata and Guembe
Wine country of Tarija
Sand Dunes and flamingos near Oruro
Chiquitania
Take note of the festivals happening. There are many festivals ranging from traditional or spiritual to westernized. They are all inimitable and bright and there will always be something going on at any time of year. If you are planning a visit, it would be smart to know what festivals are going on!
Some of the most popular are the Alasitas Festival in January which is a month long festival celebrating Ekeko, the Aymara god of abundance. Another is the Oruro Carnaval in February and March. This is in Oruro and features folk dancing, colorful costumes, dynamic music, stunning crafts, and up to twenty hours of celebration.
One of the biggest events on the Bolivian calendar is the Aymara New Year in June. It celebrates a national holiday of celebration marking the start of the Aymaran year. There are many cultural events you wouldn't want to miss out on. More information on festivals that commonly happen can be found here.
Exchange Rate
The Bolivian currency, Bolivian Boliviano (BOB), exchange rate is quite good for any American traveler converting from United States Dollars (USD). 6.93 BOB is equivalent to 1.00 USD. Use the money to pour into the Bolivian economy through tourism. An expensive meal is Bolivia would cost $6-$7 USD!
Weather Variance
Depending on what you wish to do or see, you can either travel during the Dry season or the Rainy season. Depending on which season you wish to travel in, the activities can change dramatically. The dry season is between May and October, but be warned: it can get colder in the evenings. The rainy season is between November and April, so if you travel during this time be sure to pack a rain jacket.
If you are staying in La Paz some beautiful options of lodging are:
The Casa Grande in The Zona Sur
The Atix Hotel in The Zona Sur
The Stannum Boutique Hotel in Sopocachi
There are also Hostels in the heart of the city and Campsites outside the city.
Overall, there is an abundance of things to see, do, and experience in Bolivia. The question remains, why wouldn't you go? Let's dig deeper on the issue of safety in Bolivia to see whether this dream trip really is a possibility in today's climate.
What People are doing to Mitigate Dangers
Overall, there is an extensive list of everything that could go wrong when travelling to Bolivia. It's your grandmother's laundry list of "I don't want you to do this" talking points, and I have to admit, from the political unrest to the world health crisis to the plain dangers of travelling in South America, a visit to Bolivia can sound scary. So, does this mean travelling to Bolivia is unsafe? Many of those who live and have traveled to Bolivia actually disagree. While the possibility of danger is acknowledged, it is also easily mitigated according to some seasoned travelers who love the beauty of Bolivia.
Some say the biggest risk of travelling in Bolivia is the pickpockets and the food poisoning because preventative measures may be able to mitigate most of the danger. Here are what people are saying who have actually done it and know how to navigate the dangers of travelling to South America.
If you make the decision to travel to Bolivia, then expect heightened security. Local authorities will have guidelines and rules that they are following and enforcing, so be aware of what they are and follow them. Certain areas like the Los Yungas region have a higher police presence due to drug related crime.
Be aware that there may be travel delays due to roadblocks or demonstrations. You can monitor local media stations to stay updated on where these events might be happening. In either case, make sure to have extra food and water with you in case you have a delay. It's always better to avoid a dangerous situation and have to wait a few extra hours than to put yourself in a risky situation. For example, expect major travel delays if you wish to travel to Lake Titicaca.
The form of travel is also important to research. Make sure to find a reputable cab company. It's never worth it to put yourself in a dangerous situation to get a cheaper cab.
Another risk are pickpockets who take advantage of tourists. Stay in a tour group (make sure it is a reputable tour company), travel with friends, be aware of your surroundings, and pack smart. It is wise to have bags that are harder to pickpocket to keep more important documentation and money in. Make sure that your important belongings (travel documentation, identification, currency, etc.) are protected at all times.
Places to avoid in La Paz:
Plaza Abaroa
Plaza Humbolt
Plaza Isabel la Católica
Plaza del Estudiante
Plaza San Francisco
The Altiplano
A good rule of thumb is to be wary of strangers, stay attentive to your environments at all times, avoid wearing or displaying anything expensive (i.e. jewelry, cameras, phones, etc.), and never to travel alone or at night.
If you are driving a vehicle, make sure to lock valuables in the trunk and park in a supervised lot. You will need an international permit to do so. Road safety is also important to be aware of. There are plenty of unpaved roads and unlit poorly maintained vehicles. This combined with winding mountain roads and minimal signage can create a dangerous situation.
Be aware of medical scams that may try to retain your passport. Do not give your passport to anyone. You don't want to get sick so make sure you are properly vaccinated before travelling. The Vaccinations recommended are Typhoid, Hepatitis A, Tuberculosis, Hepatitis B, Rabies, and Cholera. An International Certificate of Vaccination for yellow fever is required for travelers arriving from countries with a risk of yellow fever transmission and for travelers having transited through the airport of a country with risk of yellow fever transmission
Don't leave food or drink unattended and only drink the bottled water. While a few sources are chlorinated, foreign travelers will become sick. Be aware of food consumption and what the food is cooked or prepared with.
Be aware that there are no mountain rescue services when hiking. If you wish to hike there are some good tips to keep in mind: Buy travel insurance that includes helicopter rescue and medical evacuation. Know what your body can do and don't put yourself in a dangerous situation by overexerting yourself. Make sure you have all the needed equipment and are knowledgeable about the area's weather conditions. Tell someone what you are doing and give them a detailed plan so they know when something is wrong. Do not leave the trail. Learn the symptoms of altitude sickness and drink a lot of water to prevent it.
Never ever convey a package or luggage item on someone's behalf. There is a zero tolerance position on drug trafficking and penalties for possession or use can include heavy fines or even prolonged jail sentences. It is also important to be aware of unlicensed bars because many of these locations will moonlight as secret cocaine bars.
Photography is more sensitive to the Bolivian culture. Be aware of who you might be photographing and make sure to ask permission.
Know how long you are staying and the documentation needed. You will not need a visa unless you are staying longer than thirty days.
Know about the customs of the area you are in. For example, it is important to cover your mouth when you yawn, and instead of pointing to something to indicate, use your whole hand. Putting your thumb between your middle and index finger is an obscene gesture. There is also common curtesy to remember: don't put your elbows on the table when eating, always say hello or goodbye, it is best to accept an invitation to dinner (if it is someone you trust), no drinking in public places (the legal drinking age is 18), being groomed and clean is highly valued, gift giving is appropriate when visiting someone's home (make sure it is nicely wrapped), avoid talking about someone's personal ancestry, and although agendas or itineraries are common they aren't always kept as attention to time isn't as valued as attention to individuals.
Have the local emergency phone number as well as the contact information and location of the U.S. Embassy in Bolivia. It never hurts to be prepared.
What about Solo Travelers?
Those who have had the guts and been brave enough to travel through Bolivia by themselves have a few things to say about it. Bolivia is one of the safer countries relative to the rest of South America. 
Here's my post about solo travel in Bolivia.
Culture Shock
When you don't have someone to travel with, the culture shock may have a large affect. Two of the most important things to know about before travel is the impoverished nature of Bolivia and also simply the of the altitude difference of Bolivia. Poverty manifests itself in painters and craftsmen, unemployed, who sit in the main square of La Paz holding signs for work. There is a history of protests and demonstrations and the walls of the main square are riddled with bullet holes. La Paz, one of the two capitals of Bolivia is at 3632 meters in terms of altitude. Be aware of what do in case of altitude sickness, which can be fatal.
Tours
It is important to know when to travel with a group. Certain areas may not be safe for solo travelers. Besides, why not experience everything Bolivia has to offer with the informative eye of a tour guide? The key is to know which tours are worth the money and are safe for solo travelers. A few recommendations are listed below:
G Adventures Bolivia: A great choice for those who are travelling on a budget! The tours have an average of 10 travelers and no upper age limit. This service will be a guide to explore the salt flats, desert landscapes, and Inca Empire ruins.
Intrepid Travel Bolivia: This tour groups averages about 12 people per tour and use hotels instead of hostels, which makes it a bit more costly but more comfortable. This tour will cover the salt flats, Amazon jungle, and even branch out to Peru and Argentina.
Get Your Guide Day Tours: If you wish to book day tours, this company has top-rated activities such as walking tours in La Paz, tour to Salar de Uyuni, or three-day tour of the salt flats and colored lagoons. Very simple to sign up and books online.
Transportation
The Resorthoppa airport has a shuttle that will take you to the city center or to your hotel. To get to La Paz, if you wish to take a taxi it will be approximately £5. The bus will only be £1 but takes 45 minutes to get into the city. To get to Cochabamba it will only be about £2 for a taxi and less for the bus.
If you are travelling to or from another South American country at the beginning or end of your trip then it is approximately two hours to Brazil, two and half hours to Chile, and three hours to Argentina.
Budgeting
Especially when travelling alone, it is important to budget and prepare for all possibilities in the case of an emergency. Knowing the average cost for common things can be very valuable. More information on cost of living and currency exchange rates can be found here.
Final Thoughts
So, after all of this, we're back to the essential question of the day: Is it safe to travel in Bolivia right now? My answer is: Yes, if you are a smart traveler.
First, know what safety measures you are going to be taking during your travels. Be prepared and don't expect a five-star resort vacation. Have common sense and be smart. If you can do that, then you might want to consider a trip to this beautiful country.
Hopefully this plethora of information has guided your decision to take your dream vacation, and whether that is this year or in the years to come I'm sure your trip to Bolivia will truly be one of the most special and life-changing experiences you've ever experienced!
*Situations and events change constantly. While this information may have been accurate at the time of publication, please let us know if you experience anything otherwise that would contradict this information.