Besides the colonial structure that highlights its streets, churches and white buildings, Sucre is also known for its incredible food.
So if you're wondering where to eat in Sucre, Bolivia, here is a list of my favorite places.
1. Chorizos 7 Lunares:
This is a Sucre classic! Make sure you visit this place and try the Chorizo sandwich. If you have more space, try the mixed ham sandwich.
Check out the prices for hotels in Sucre here.
2. Picantería Rolo's:
If you are one of those people who wants some blush on your cheeks this is the place to be. I recommend the Trimixto, a mixture of Cola, Chicken and Tongue or you can also try the Mondongo, which is pork bathed in chili accompanied by potato and mote.
Many connoisseurs would advise different places where they sell traditional chuquisaqueño dishes with ají, which are as competitive as this restaurant, but I am certainly delighted with this ají, which is really spicy.
This restaurant is located in the Railroad Neighborhood.
3. Heladería Sandra:
Something sweet for your palate, perhaps you already know them as the traditional ice creams of Bolivar Park. This place is very well known in Sucre for the traditional ice creams of cream and tumbo.
I recommend you to go and buy a double cone, you won't regret it.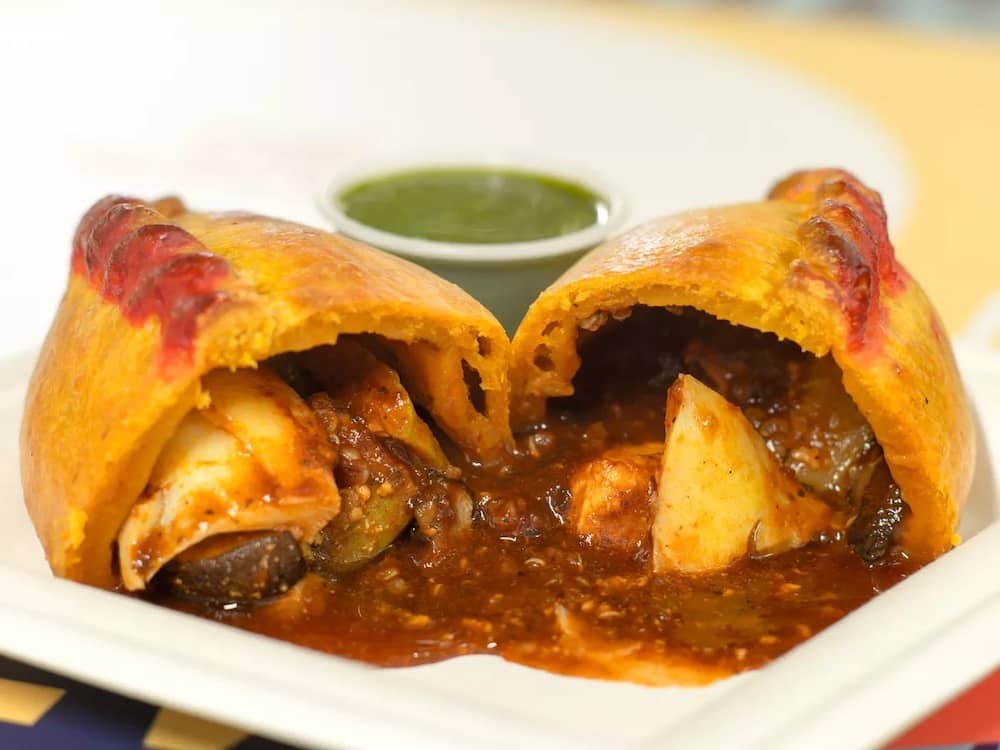 4. Salteñería El Patio:
This is a place from yesteryear, since it is located on San Alberto Street, very close to the Central Market, in a colonial style house.
The salteñas are super big, very delicious, and a little bit expensive compared to what a salteña costs anywhere in Bolivia, but worth every penny, since they are salteñas of meat with a touch of chili. You can also taste the famous salteñas Santa Clara that are made of chicken and have a different shape than a traditional salteña.
Make sure you get one of each.
5. Salón de Té Las Delicias:
At mid-afternoon and if you are near the main square on Calle Estudiantes, you will find this tea room famous for its delicious pastries with a touch of Santa Clara, since this place offers its clientele cuñapes and sonsos, which accompanied with a cup of coffee are incredible at any time of the day.
6. Churrasquería El Bagual:
If you're looking for a good steakhouse, head to Churrasquería El Bagual. They have excellent steaks and an impressive wine selection.
7. Pollos Rosita:
I've heard many opinions about this chicken, both good and bad. But there is no doubt that they're the most famous in the city. For me, the chicken has very good flavor, and the long line to eat at this restaurant makes me feel confident that I'm not the only one.
This shop is located on the Avenue of the Americas, very easy to find.
8. Pizzería Napolitana:
If you're in the mood for pizzas or pasta, this is the place to be and it's right in the middle of the Plaza Principal 25 de Mayo.
This pizzeria has been serving authentic, traditional Italian food for the last 30 years. Good price, excellent service.
9. Restaurant Alexander:
A discovery that only a local person can recommend, Alexander is a restaurant of traditional Bolivian and Chuquisaca cuisine. They have excellent prices, quantity and quality.
It is located at the exit to Cochabamba near a pump that burned down (with that reference any cab driver will take you)
For sweet lovers:
10.Chocolate Para Tí:
Although not really a restaurant, I love the chocolates Para ti, and I buy them whenever I'm in town to eat a few or take them as gifts.
If you are in Sucre, go and buy yourself a lot of chocolate either to eat or to take with you. I recommend you buy it by weight so you get an assortment of everything.
I hope you liked my restaurant recommendations. If you have any other recommendations, let me know in the comments.