La Paz offers a little bit of everything and for all tastes. Whether you like bars or nightclubs or even cool cafes, even though the temperature drops along with the sun, the nightlife in La Paz awaits you with its own warmth.
There are a lot of different exciting La Paz, Bolivia nightlife options such as:
Take a cable car ride at night for stunning views
Visit a Jazz Bar to listen to some live music
Watch Lucha Libre (Women's Wrestling)
Take a cooking class and have a traditional Bolivian dinner
Visit the Andean Culture Distillery
Watch the sunset at the Killi Killi view point
Visit the Saya Beer Brewery
Have a cocktail at the Mecanica Bar
Party the Bolivian way at Malegría
As you can see, La Paz has some great nightlife and lots of things to do in addition to having loads of world class bars and pubs. Keep reading and I'll tell you everything you need to know about having a great night out in La Paz.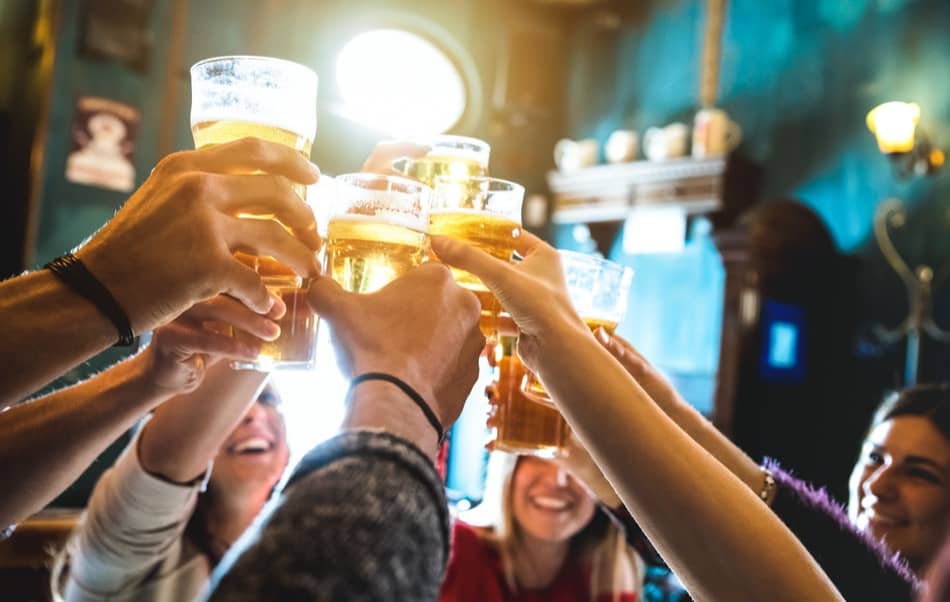 Here's my post about the best things to do in La Paz.
Best Areas To Go Out in La Paz
The main areas to go out at night in La Paz are Sopocachi, especially around Plaza Avaroa, as well as the busy streets around Plaza San Francisco. Other areas are the El Prado area, Avenida Montenegro and Calle 21.
Here are the best neighborhoods in La Paz.
The typical thing is "bolichear", that is to say, to visit three or four bars or clubs, until the sun rises.
In La Paz, Friday nights are the liveliest, the party usually starts after 11 p.m. and the bars don't close until very late in the morning. During the week it is quieter and people usually go out for a drink.
La Paz has options for all tastes, restaurants and bars, karaokes, folk clubs and nightclubs with all kinds of music, from jazz to Latin rhythms.
Here is my post about whether La Paz is safe. Make sure to check it out before you plan your night out.
If you haven't booked your hotel yet, you can get the best deals on hotels here.
Food & Drink
Restaurant Hopping
La Paz has several treasures for your palate located all over the city, for all tastes and pockets. The number of restaurants in La Paz is growing day by day. Traditional flavors such as a good anticucho, or a fricassee, also give way to new experiences and new fusions.
Traditional and local ingredients like quinoa, goose, surubí or llama meat are the staples in the most chic kitchens of La Paz that reinvent, day by day, the Bolivian cuisine.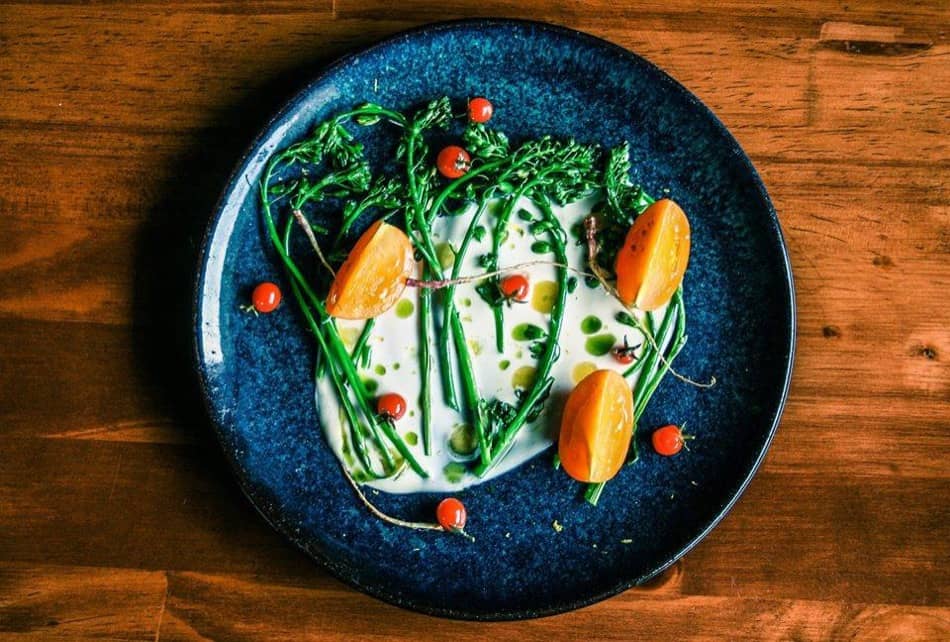 Andean Culture Distillery
Serving delicious homemade liquors distilled the heart of the city of La Paz, the Andean Culture Distillery is an artisan distillery. You can see the step by step the process of how liquors are made for a fun evening out.
Abbey Road
Great Beatles inspired bar with artisanal beers brewed locally in La Paz. Located in Sopocachi, it's the best place to have a couple of "blondes" before you hit the nightclubs.
Mongo's
Tuesdays are salsa! one of the best "boliches" in town. This is a local pub in one of the best areas of La Paz, the atmosphere is very nice you can eat great food and enjoy a few beers. Lots of locals and tourists visit this place.
Reineke Fuchs
Excellent German beer and typical food in San Miguel. On Fridays, it's always full so you have to book in advance. The pork knuckles and the German sausages are highly recommended.
Take a Cooking Class
Learn how to cook traditional Bolivian dishes with a cooking class. Using fresh produce from local markets, you can enjoy a unique experience enriched with Bolivian music, culture and enthusiastic hosts!
Here's a post about how healthy Bolivian food is.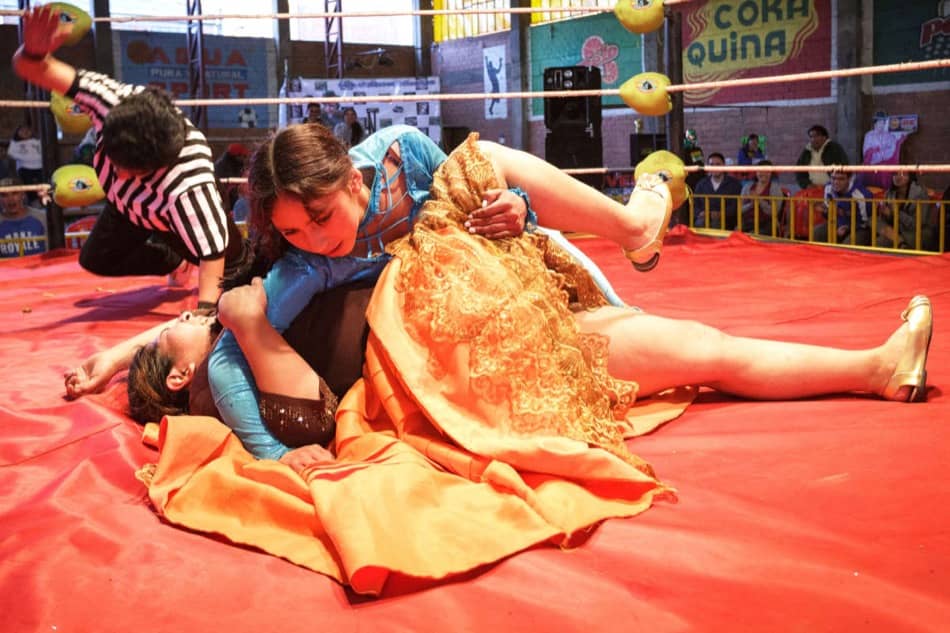 Bars & Nightclubs
Here are the most popular bars and nightclubs in La Paz
La Costilla de Adán (Bar + Museum)
La Costilla de Adán is a unique corner in La Paz, a mixture of bar and museum of Bolivian popular culture and a meeting place for artists and bohemians. Created by an antique collector, this two-storey place contains more than 19,000 antique pieces from all over Bolivia: books, lamps, dolls, photos, radios and an extensive etcetera.
Be sure to try the Leche de Negro, a mixture of brandy liquor, quince liquor and coca, or the Evaristo, with liquor and coca brandy. To accompany it, you can order some special goat cheese, corn and basil empanadas or, to sweeten your palate, their delicious baked apples.
Diesel Nacional (Gastropub)
In Sopocachi, a simple grill and an exterior that looks like an ordinary warehouse, are the preamble to surprise you with an industrial style decor where the remains of trains, cars and old planes stand out. Before you hit the nightclubs below, warm up with a varied menu of food, drinks and craft beers.
Equinoccio (Best For Rock Music)
For more than 25 years Equinoccio has been synonymous with Bolivian rock and a symbol of La Paz's nightlife. Some of the best bands, both local and from other cities of Bolivia, have passed through the Equinoccio's stage. It's a place where rock lovers always feel at home.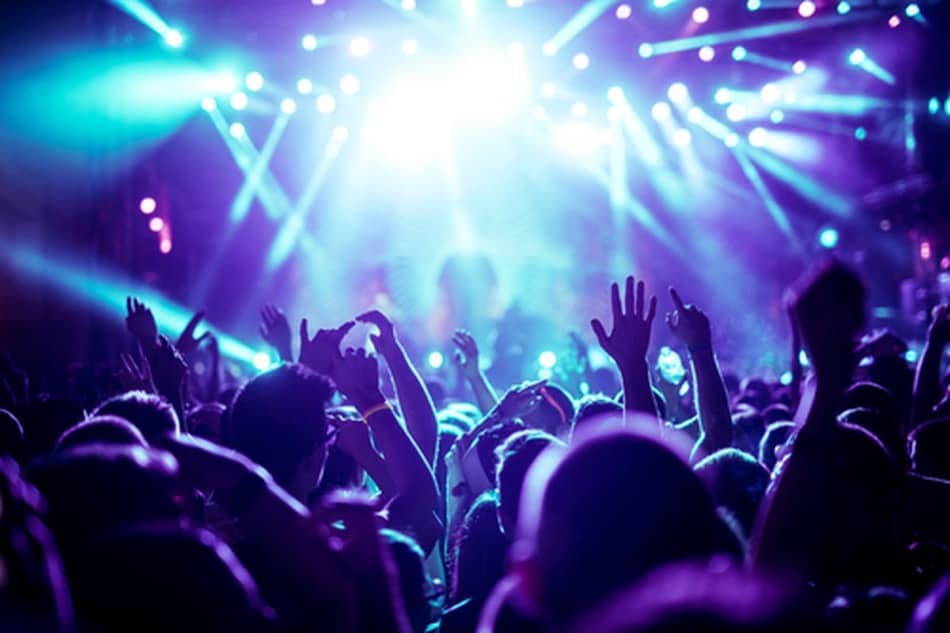 The Dubliner (Irish Bar)
Like any city with a "self-respecting" nightlife, La Paz has its own Irish bar. The Dubliner, is located in Irpavi, in the southern part of the city. They have live music and promotions that change every month, both in food and drinks.
Senses Club (Nightclub)
Also in the southern area, but in the neighborhood of Calacoto, is one of the most popular clubs in La Paz for local youth. Senses is a good place if you want to go for a few drinks and dancing. Its theme parties are well known and Thursday is ladies night women have free admission until midnight, and 2 for 1 drink promotions.
Gitana (Bowling Alley + Bar)
Just around the corner from Senses is Gitana Bar, a recommended place for those looking to listen and dance to the rhythm of well-known local live bands. Drinks, good atmosphere and good music characterize this bowling alley in La Paz. If it's Friday or Saturday, try to get there early so you can get in and find a good table.
Forum (Nightclub)
Just as Equinoccio is a reference of the rock, Forum is the reference of La Paz in the nights of fun every weekend. There are already several generations that have made this club in La Paz their meeting place to dance and have fun. It is the ideal place if you want to see the best nightlife among the young people of the city.
Activities & Nature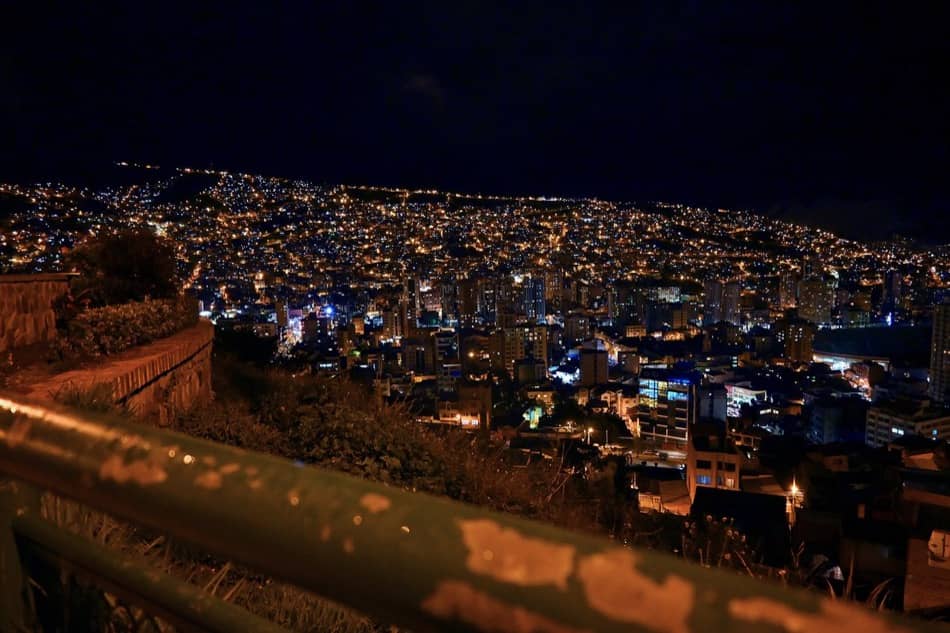 The La Paz Teleferico at Night
Running until 11pm, a ride on the Mi Teleferico is a great way to spend an evening. Visiting the Killi Killi viewpoint at night is one of the best things you can do in La Paz. I think it's the most incredible viewpoint I've ever seen, with 360 degree views of the whole city. Here is my post about the best routes on the La Paz cable car.
Watch Lucha Libre
Seeing two female wrestlers facing each other in a ring is not something that happens every day; especially if they are dressed as traditional Bolivian wrestlers, whose frilly skirts and long braids fly around them as they tackle each other, wobble, jump, strangle each other and beat each other up before the delirium of a very noisy audience.
This unique spectacle shows the athletic prowess (and theatricality) of the cholitas – or indigenous women – dressed in full color.
Spend The Evening Visiting Local Markets
In La Paz, the options for shopping are many, thanks to the large number of markets that are spread throughout the city. In them, you can find a wide variety of products, from food such as fruits and vegetables, to clothes and crafts.
The Rodriguez, Uyustus and Tumusla markets are some of the most traditional ones, where you can live a real experience as another paceño.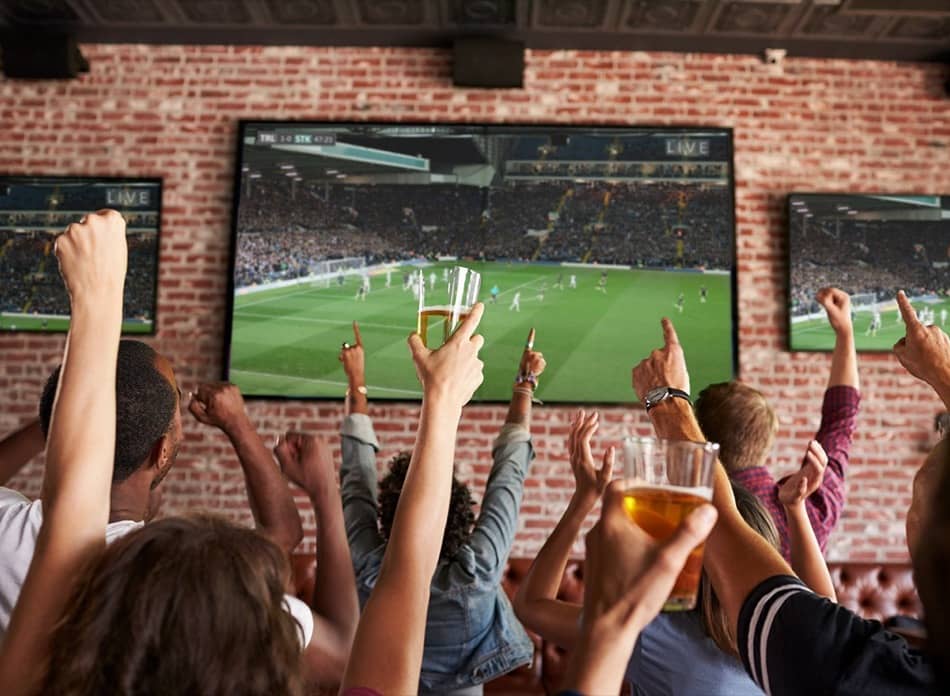 Watch a Football Game
Football is much more than a sport: it is a feeling. Every fan knows this and that's why, when his team plays, he feels it and lives it. Football is a reason to go out, meet friends and enjoy yourself, no matter what colour your shirt is. You can choose from several different places and watch the televised games.
Listen to Street Music
Chances are that every step you take, whether you're in El Alto, downtown or the South, some music will reach your ears. A variety of international rhythms take to the streets. Fortunately, the chords of a charango, or the melodious blowing of a zampoña, have not been lost among them.
There are concerts by international groups, the typical folkloric peñas and live music for all tastes in the bars and bowling alleys throughout the city.
Spend the Evening Rapelling
Urban Rush is one of the best activities you can do if you are visiting La Paz and you like adrenaline. Going down and jumping from the 17th floor of the Hotel Presidente with a privileged view of the Basilica of San Francisco leaves you breathless and is a magical experience. Make sure you go before 6PM.
The views are incredible!
Watch the Sunset at La Cumbre
Watch the sunset with an incredible view of the Yungas. You can see an incredible array of landscapes from snowy peaks to the heat of Yungas.
This is the starting point for the bike trips to the death road.
Watch a Movie
Although La Paz already has several movie theaters, there is a unique place in the whole country dedicated especially to the seventh art: The Bolivian Cinemateca. For more than 40 years it has been the institution in charge of preserving the country's moving images. But, in addition, the Cinemateca Boliviana presents film cycles dedicated to diverse themes, genres and countries, in addition to supporting the production of national cinema. Check out their listings and spend a different evening with anyone you like.
Bocaisapo Coca Arte Cultura
Bocaisapo is located in the oldest colonial street of the city. It is a unique place that welcomes artists, musicians, poets, writers and people on foot. It offers Latin American folk music as well as live performances from Thursday to Saturday, with national and international artists. It has a bar specialized in typical drinks accompanied by coca leaves.
Malegría (Dancing + Bowling Alley)
Very close to Diesel, is Malegría, a traditional bar in the night of La Paz. Here you can find delicious cocktails to quench your thirst for dancing non-stop. You can't miss live Afro-Bolivian saya on Thursdays, a classic of the Male for the frequent clientele, and a surprise full of rhythm for those who visit this La Paz bowling alley for the first time.
All those who know how to enjoy La Paz nightlife also know that the night must end at Los Honguitos. Come to this traditional spot in Sopocachi, to enjoy a choripán or a peceto. Small meat dishes, with their special sauces and ideal to let the chaki go down.